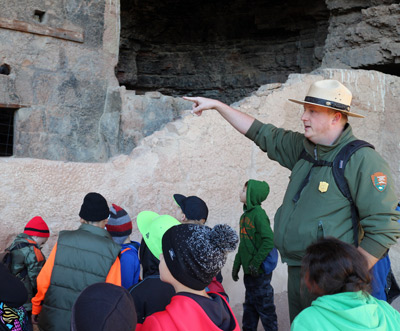 For the highest quality learning experience for your students, please book a field trip between October and April.
4th Grade:
People of the Past
Students will be introduced to the legacy and culture of the Salado People in fourteenth century Tonto Basin. Students will also learn how archaeology helps us add to our understanding of the past. (3.5 hour field trip)
Optional Activity: Corn Grinding Activity (30 mins)
Field Trip Itinerary & Arizona Common Core Standards Addressed
5th/ 6th/ 7th/ 8th Grade: Protecting Our Nation's Land
Students will become aware of the Antiquities Act of 1906 and the National Park Service Organic Act (1916). Students will then analyze the historic and scientific value of Tonto National Monument and other National Park Service Units. (3 hour field trip)
All Other Grades:
We offer customized programs for all other grades who visit Tonto National Monument. Please contact us to design your field trip program!