Introduction to Caving Tour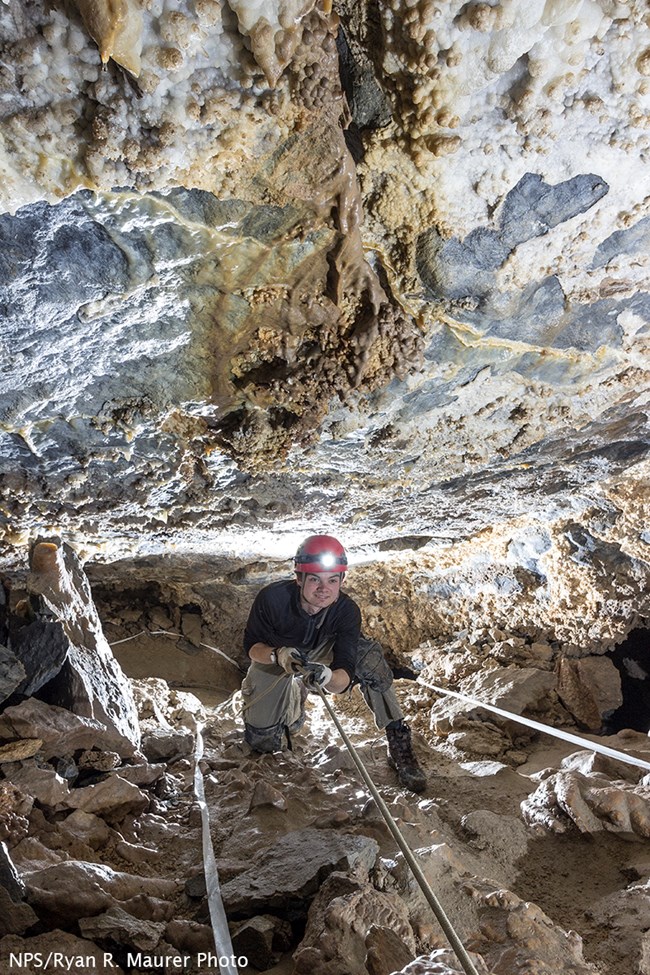 Ever wondered what it's like in the caves away from the developed trails and cave lights?
Or what it's like to be a caver?
With a helmet and headlamp you are ready to experience Hansen Cave in its natural state. With a ranger, you'll scramble and sometimes even crawl on the trail leading to Hansen Cave Lake, along the same route Martin Hansen conducted tours in the late 1800s. You'll learn all about caving safely and low-impact caving skills. The tour lasts approximately 1 ½ hours and is considered strenuous.
Be prepared to get your clothes dirty and have fun!
Tour Information
Due to the strenuous nature of the tour, participants must be in good physical condition.
Minimum age: 14 years old (14-15 year olds must be accompanied by an adult.)
Limited to no more than 5 people
Price: $22.00 per person
Length of tour: approximately 1 ½ hours (3 ½ - 4 hours round trip from the visitor center)
Advance tickets required. Tickets can be purchased online or by calling (877) 444-6777 (10 a.m. to Midnight EST) to check availability and schedule your Introduction to Caving Tour.
Tours given Memorial Day through Labor Day.
What to Bring
Clean gloves (rubber-dipped cloth or leather (not suede))
Good close-toed hiking shoes
Drinking water and a sweatshirt or jacket (cave temperature is approximately 45°F)
Long pants and long sleeves (long pants are required to go on this tour)

To help prevent the spread of White Nose Syndrome, a disease that is killing millions of bats in North America, the monument prohibits any boots, clothing or gear (including cameras) that have been in ANY other cave or mine at ANY time.

The monument will provide caving helmets and head lamps
Learn More about Caving
Research the show caves in your area - some offer off-trail tours.
Join a Grotto! Grottos are local caving clubs registered through the National Speleological Society (NSS). Grottos organize caving trips for their members. For more information and to find the nearest grotto to you visit the NSS web site at www.caves.org.
Last updated: March 13, 2023