Date:
February 14, 2007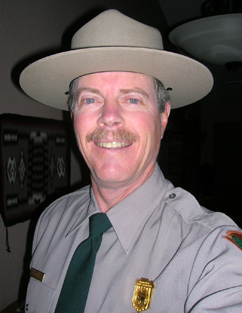 By Susan Garland
303-969-2839
February 09, 2007



Denis Davis has been selected as the new superintendent at Timpanogos Cave National Monument. He will assume his new responsibilities in April.

Davis, who has been with the NPS for 31 years, is currently Intermountain Region's strategic planner and performance management coordinator as well as the chief of park program review.  The review program was established to provide support to parks in improving program effectiveness, customer service, and fiscal accountability. He will continue his duties as the region's chief of park program review while at Timpanogos Cave.

"The combination of the skills Denis learned as a park manager and those he developed for the region's management efficiency program will make him an exceptional superintendent," said regional director Mike Snyder.  "He has a good understanding of the working relationships between parks, region and partners that will serve him well at Timpanogos Cave National Monument."  

During his tenure with the NPS, Davis was chief of maintenance and chief of administration at Glen Canyon, acting superintendent at Big Thicket, and superintendent at Cumberland Island. He was assistant superintendent at Glacier National Park before coming to the Intermountain Regional Office in 2002. 

Davis began his NPS career as a park planner and environmental specialist at Denver Service Center in 1976. Davis completed a BS in wildlife biology from Colorado State University and an MS in outdoor recreation from Utah State University.  Prior to his NPS career, Davis worked part-time as a research assistant for the Center for the Study of Outdoor Recreation and Tourism at Utah State.

"I am thrilled to get back to a park operation and I am looking forward to exploring the canyons, deserts, caves, and mountains of Utah.  I also look forward to working with the Forest Service to make our planned interagency facility a reality.  It will be a great benefit to the operations of both agencies and save the taxpayers money by jointly locating in the same facility," Davis said of his new assignment.

In 1993, Davis received the Secretary of the Interior's Excellence of Service Award for his leadership in keeping all facilities open during four years of drought and lowering levels on Lake Powell.  The National Parks & Conservation Association awarded him the 1998 Steven Tyng Mather Award for Resource Stewardship again for his leadership abilities.  This time the award recognized his work of balancing Cumberland Island's wilderness, cultural and natural resources protection.

In his spare time Davis leads an active life - mountaineering, rock climbing, backpacking, hiking, cross-country skiing, bird and wildlife watching, photography, and volunteering for his church, the Salvation Army, and the Colorado Mountain Club.