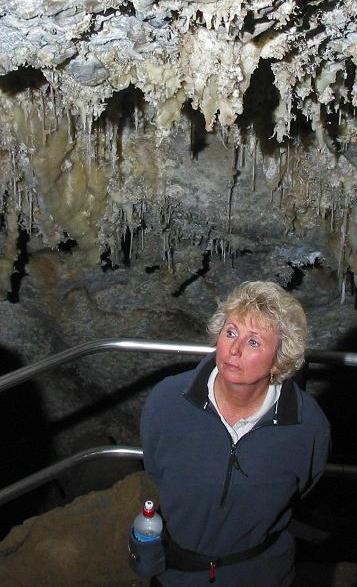 News Release Date:
May 19, 2006
Fran Mainella Becomes First NPS Director to Visit Timpanogos Cave
Director Mainella toured Timpanogos Cave National Monument on Thursday May 18, becoming the first National Park Service Director to visit the monument since it was established by Presidential Proclamation October 14, 1922.
The Director took a break from her busy meeting schedule with the Advisory Council on Historic preservation in Salt Lake City, to meet the monument staff and tour the caves. Only 30 miles from downtown Salt Lake, Timpanogos Cave is a local favorite on the heavily populated Wasatch Front.
Director Mainella joined about 30 of the monument staff for a cook-out lunch at the historic rock house that was built in 1941 as the first superintendent's residence. Staff from Senator Bennett's, Senator Hatch's and Congressman Cannon's Provo offices joined the Director for the afternoon. Following lunch a press meeting was held at the visitor center. Superintendent Kit Mullen welcomed the Director on this historic visit and presented her with a framed set of photographs of cave formations for which the monument is renowned. Director Mainella addressed the group and called the monument "a hidden gem that more people need to know about." After answering some questions from the press the Director led a small group on the hike to the caves.
While hiking the 1 ½-mile paved trail that gains 1,067 feet of elevation, Director Mainella talked with monument staff and learned more about the monument, the facilities, visitation, services, programs and issues. During the hour-long cave tour the Director was very interested to learn about the formation of the caves, the discovery and development of the caves, and about visitor and resource management issues and solutions in the caves. As most people are, the Director had a fascinated awe of the highly decorated caves where you are so close to formations you see every detail.  After a quick hike back to the visitor center, the Director departed the monument for a dinner with the ACHP in Salt Lake. She left a monument staff of new fans who were impressed with her genuine interest in them and the monument. The whole staff echoed what the Director wrote in the cave exit register, "100 percent satisfied! Thanks a million!"