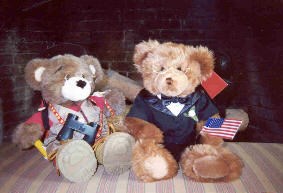 Download a copy
of the
Theodore Roosevelt Inaugural Site's Junior Ranger Booklet
to get a head start for your visit! (Sorry, badges cannot be awarded by mail.)
The Continuing Adventures of Nat and Parker
The Theodore Roosevelt Inaugural Site has a new Junior Ranger program. Visit the Site with Nat and Parker as they earn their badges! Come to the TR Inaugural Site and earn your own Junior Ranger badge!
The Past Adventures of Nat and Parker
Follow the adventures of traveling Teddy bears Nat and Parker as they travel the National Parks!