THING TO DO
Upper Terrace Loop Ski Trail

The Upper Terrace Loop Ski Trail is a groomed 1.5 mile (2.4 km) loop that ranges from easy to more difficult due to a steep downhill section if traveled to the right (counter-clockwise) from the trailhead.
This loop begins at the Upper Terrace parking area. It is easiest if skied beginning to the left (clockwise). A moderate climb leads to views of hot springs, terraces, the Mammoth Hot Springs Historic District, and the surrounding mountains. At the top of the climb, a trail veers off to the southwest, which connects with the Snow Pass Trail. The Terrace Loop Trail descends past more hot springs before completing the circuit. Since snow depths here are less than in the mountains above, wintering elk and deer are occasionally sighted.
Notes: Bison and elk frequent this trail. Federal regulations require you to stay at least 100 yards (91 m) away from bears and wolves, and at least 25 yards (23 m) away from bison and all other wild animals.
Caution: Stay on boardwalks and designated ski trails. The ground is unstable in hydrothermal areas. Short-cutting or cross-country travel can damage the fragile hydrothermal features along the trail and is prohibited.
Check out the ski trail details and accessibility information at the bottom of this page.
The duration will vary depending on fitness level, snow conditions, and length of time spent at hydrothermal features.
Qualified service animals are welcome throughout the park and in all park facilities. However, they must be leashed and under your control at all times.
Entrance fees may apply, see Fees & Passes information.
Location
Mammoth Hot Springs
Drive south on the Grand Loop Road toward Norris until you come to a gate. The parking area is to the right just before the gate.
Generally, skiers and snowshoers are recommended to recreate during daylight hours for winter safety concerns. However, during the full moon, the Mammoth Terrace Ski Loop is bright enough for an enjoyable and safe late night ski.
Accessibility Information
This groomed ski trail follows a paved road for the entire 1.5 mile loop. The section to the left of the gate includes a steep uphill/downhill, and some sections do not hold snow due to thermal activity. For an easier out and back ski, go to the right at the gate and turn around at Orange Spring Mound to avoid the steep downhill section beyond. Service dogs allowed.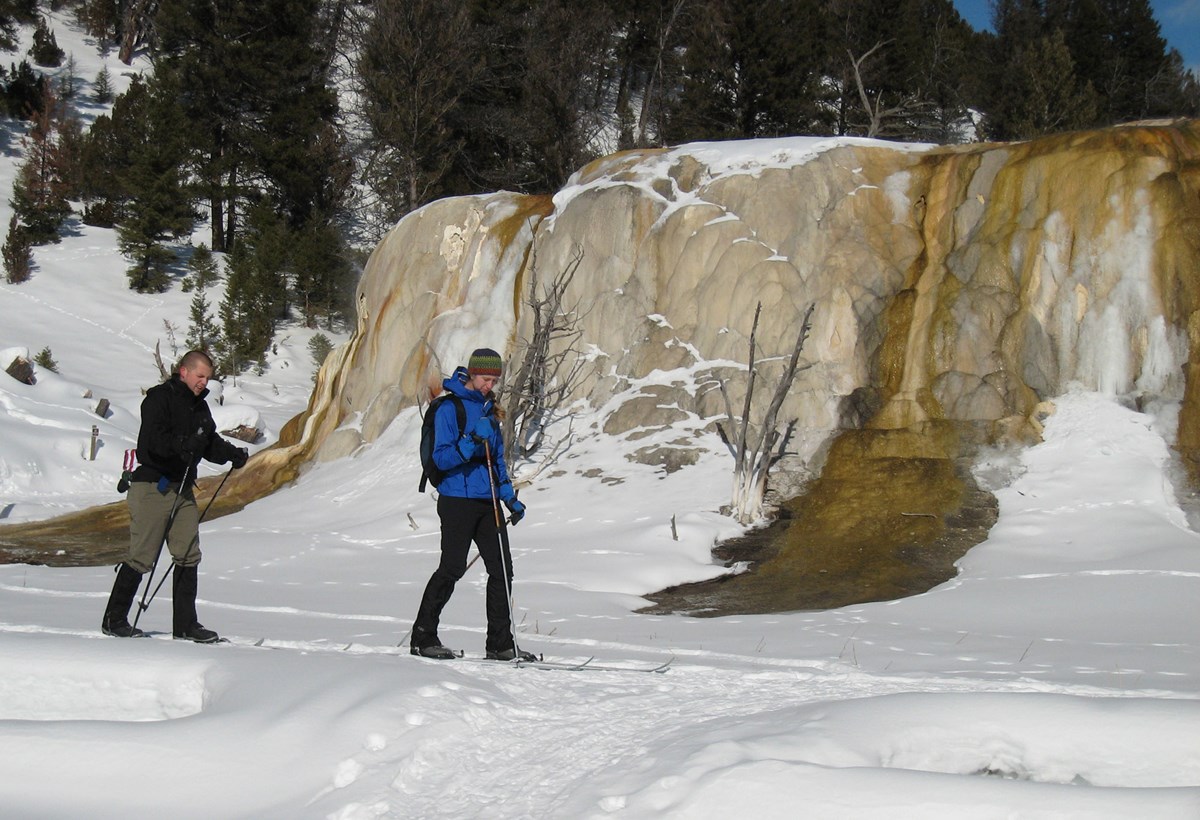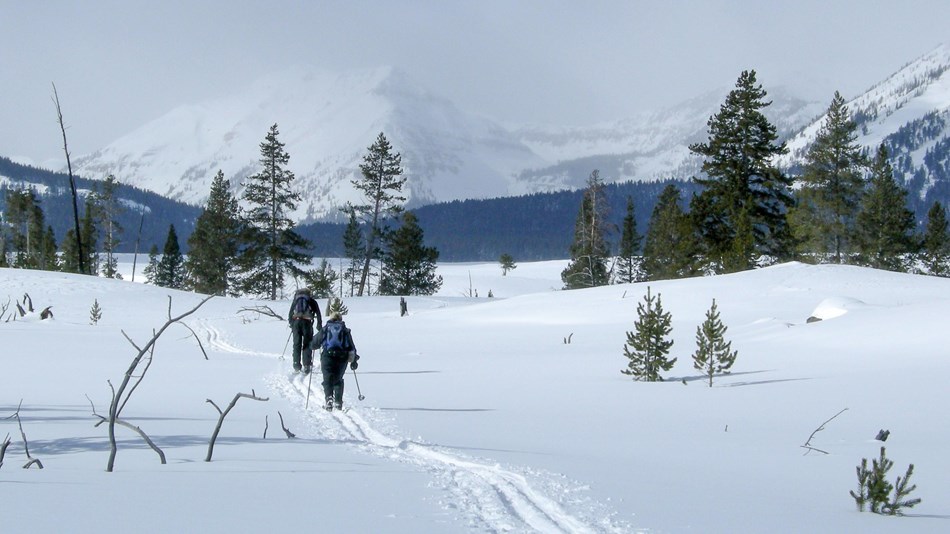 Ski Trails in the Mammoth Area
Hitting a ski trail is a great way to experience all that the Mammoth Hot Springs area offers.
Last updated: January 13, 2020