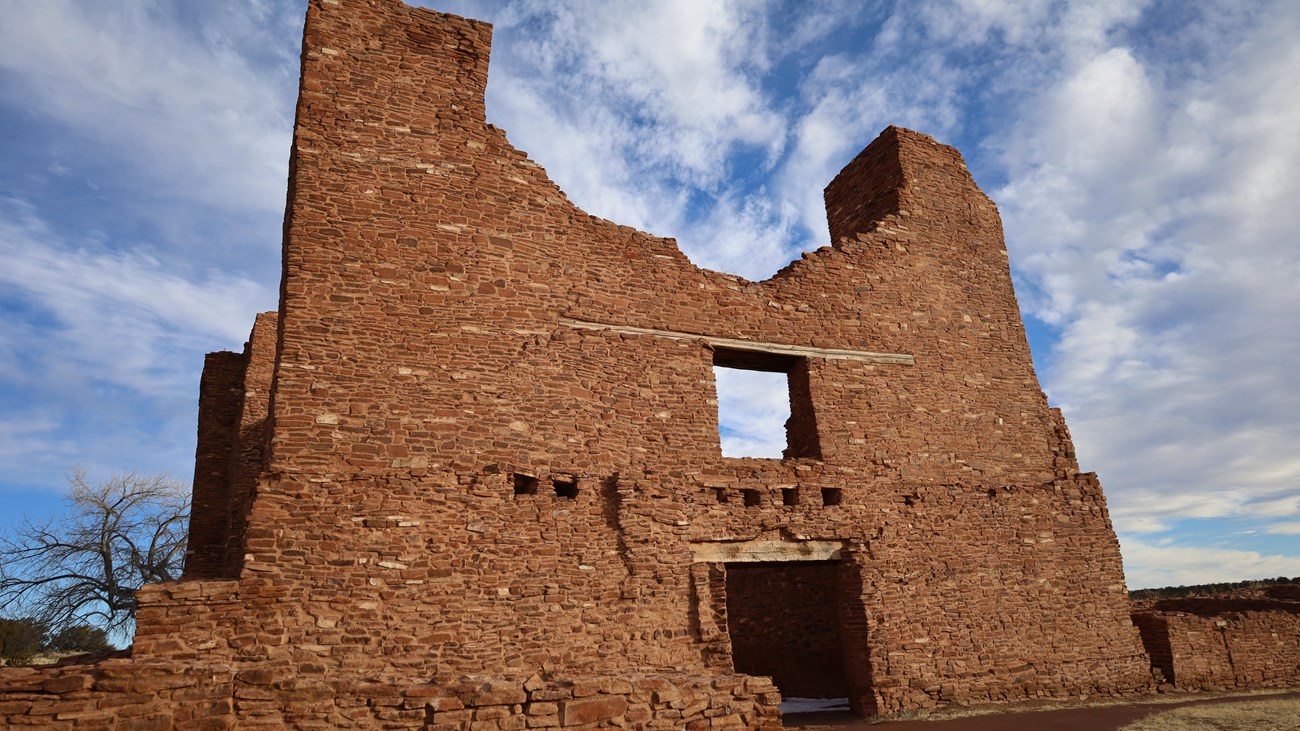 Located nine miles north of Mountainair, NM, Quarai is tucked at the base of the Manzano mountains. A natural spring attacted people to the area for centuries and attracted the ancestral Pueblo people to settle for longer periods of time and introduce agriculture to the area. With the earliest masonry pueblos being at Quarai around 1300 century, people connected with the land, utilized what it offered, and impacted the culture of central New Mexico. 
Consistent with most Pueblo groups around the region, the Tiwa speakers at Quarai were primarily farmers. They traded throughout the greater region, constructed hardy tools and weapons, elaborately weaved and made superb peices of pottery. They cultivated, collected, and purposed every opportunity nature granted. 
The Tiwa speakers of Quarai occupied the land alone until 1626 with the establishment of the Mission Nuestra Señora de la Purísima Concepción de Quarai. Today, you will see the tall, impactful ruins of the church that illuminates to an unforgettable fiery red in the sunshine. Featuring the locally quarried red sandstone, the church is an achitectural marvel even by today's standards. Quarai was an active mission and pueblo until all people migrated north in 1677.
On site you can: 
Walk the half-mile, paved interpretive loop trail
Hike on the one mile primitive Spanish Corral Trail
Go bird watching
Stop inside the visitor center and museum to learn more about the story of the park
Take pictures of the breathtaking structures and scenery
Relax and marvel at the large groves of cottonwood trees surrounding the spring source
Have a picnic in the picnic area
Check out the event calendar for ranger programs and other special events
Activity
Self-Guided Tours - Walking
Pets Allowed
Yes with Restrictions
Pets are welcomed on the interpretive loop trail and must be on a leash at all times. Ask about our BARK Ranger program in the visitor center!
Entrance fees may apply, see Fees & Passes information.
Accessibility Information
The interpretive loop trail is paved and accessible for people with mobility impairments. The visitor center and restrooms onsite also meets these accomodations.
Last updated: March 9, 2023