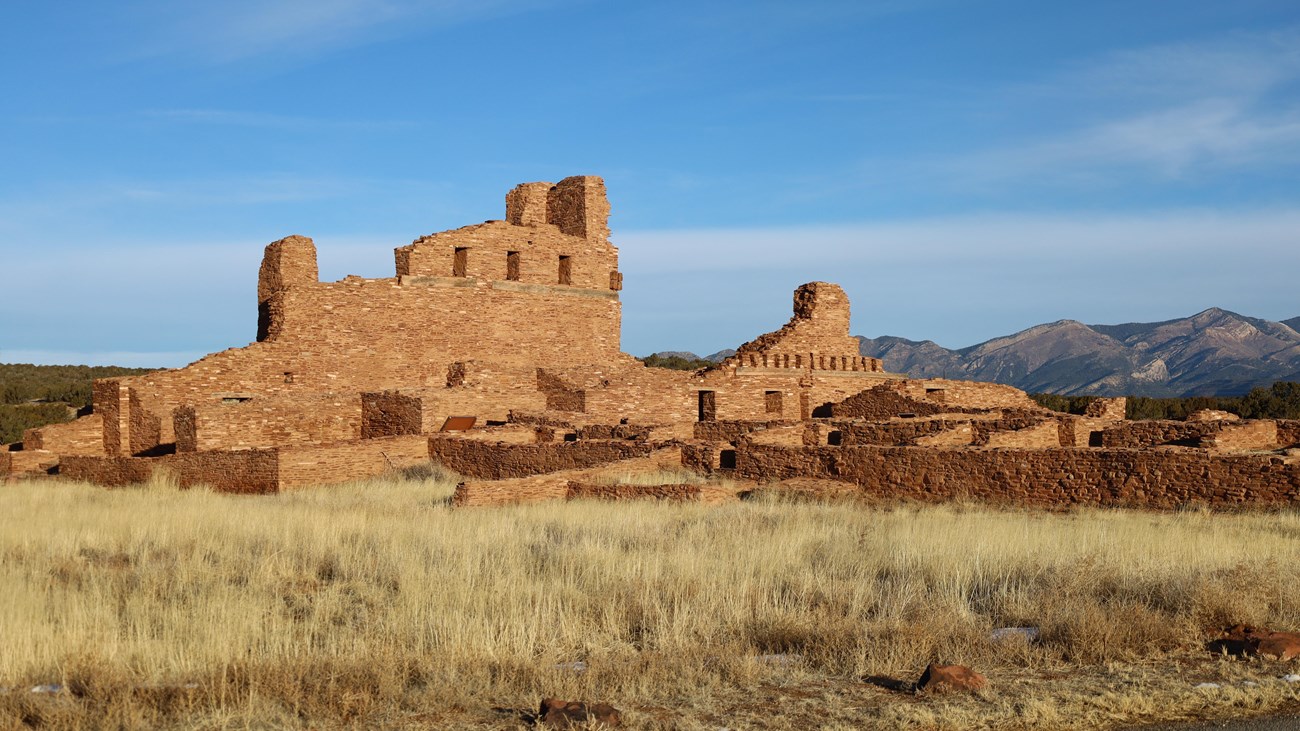 Located ten minutes west of Mountainair, Abó is a special place rich with history and beauty. Likely the earliest occupied site at the park, the Pueblo people lived in the area starting roughly around 800 AD. Farmers, hunters, creators, and builders occupied Abó and were central to a connected trading web of goods, ideas, and techniques that flourished and continue to flourish throughout the southwest for generations. 
Into the 17th century, the Tompiro speakers built rectangular red sandstone masonry pueblos at Abó. Until then, traffic through central New Mexico typically came from other Pueblo and plains groups, and of course the vast herds of wildlife. The 1600s added a new traveller through central New Mexico, the settlers and missionaries of New Spain. The mission of San Gegrorio de Abó was founded in 1622. In 1626, the first church was completed from locally quaried red sandstone, ponderosa pine roof vigas and lintels, and finished with adobe and white gypsum plaster. Between 1626 and 1651 as a result from sucessful crop yeilds and trade, the population more than doubled in size bringing the number to roughly 1,400 people living at Abó. To accomodate, the second church, church of San Gregorio de Abó II was completed in 1651 and the remnants of that church is what you see today. 
On site you can: 
Enjoy a .75 interpretive loop trail through the 17th century Mission of San Gregorio de Abó.
Take photographs of the 1820's Spanish Resettlement Structures.
Listen to the sounds of nature near the arroyos where animals gather to drink out of small pools of water.
Pack a lunch and picnic in the covered picnic area.
Check out the event calendar for ranger programs and other special events
Activity
Self-Guided Tours - Walking
Pets Allowed
Yes with Restrictions
Pets are welcomed on the interpretive loop trail and must be on a leash at all times. Ask about our BARK Ranger program in the visitor center!
Entrance fees may apply, see Fees & Passes information.
Accessibility Information
The interpretive loop trail is paved and accessible for people with mobility impairments. The visitor center and restrooms are onsite also meets these accomodations.
Last updated: March 15, 2023