Thing to Do
Reflect at the Vietnam Women's Memorial

A popular tourist destination, the National Mall is home to several notable monuments and memorials, including the Lincoln Memorial, Washington Monument, World War II Memorial, and Vietnam Veterans Memorial. Equally important on this symbolic landscape is the Vietnam Women's Memorial located just north of the Reflecting Pool. The memorial was dedicated in 1993 and portrays three women caring for a fallen soldier.
During the Vietnam War, women served in many different roles. Many women served as nurses and physicians while others acted as air traffic controllers, communication specialists, and  intelligence officers. The Vietnam Women's Memorial was established to honor the women who risked their lives to serve their country. The names of the eight women who died in Vietnam are included on the list of over 58,000 names on the Vietnam Veterans Memorial. Ask a ranger to find a name on the wall and learn more about the people who served our country.
Activity
Self-Guided Tours - Walking
Pets are allowed on the National Mall but are not permitted in most of the memorials. Please keep your pet on a leash and clean up after them. 
Location
National Mall and Memorial Parks
The Vietnam Women's Memorial is accessible 24 hours a day.
Accessibility Information
The Vietnam Women's Memorial is accessible via a paved, level trail.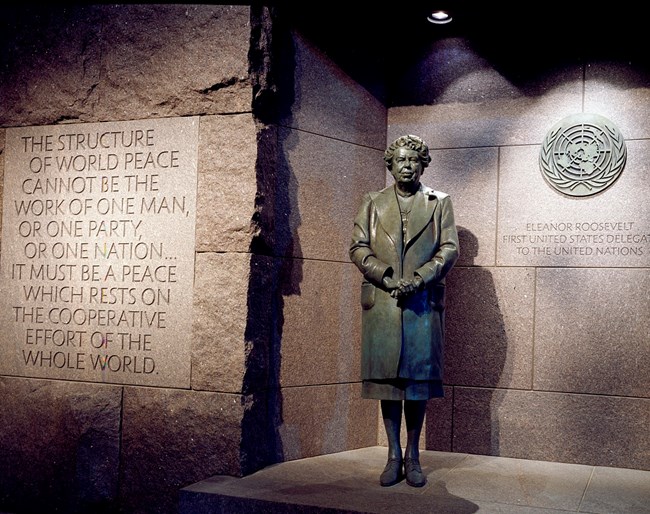 Explore More!
Another "must see" memorial is the tribute to Franklin Delano Roosevelt, the 32nd president, located around the Tidal Basin. Included in the memorial is a statue of Roosevelt's wife, Eleanor Roosevelt. She helped shape some of the reform programs of the Great Depression Era and she often sat in for her husband at political meetings.
Eleanor supported rights for women and African Americans and she befriended activists such as Mary McLeod Bethune. She also served as First Lady her husband's four terms in office, which included the Great Depression and World War II.
After her husband's death, Eleanor was appointed to serve as the U.S. representative to the newly-created United Nations. She wrote the Universal Declaration of Human Rights, which was passed in 1948. She died in 1962 and is buried in New York.
Sources:
http://www.vietnamwomensmemorial.org/vwmf.php
https://www.nps.gov/vive/index.htm
http://www.firstladies.org/biographies/firstladies.aspx?biography=33
Last updated: May 10, 2021