Thing to Do
Unfinished Railroad Loop Trail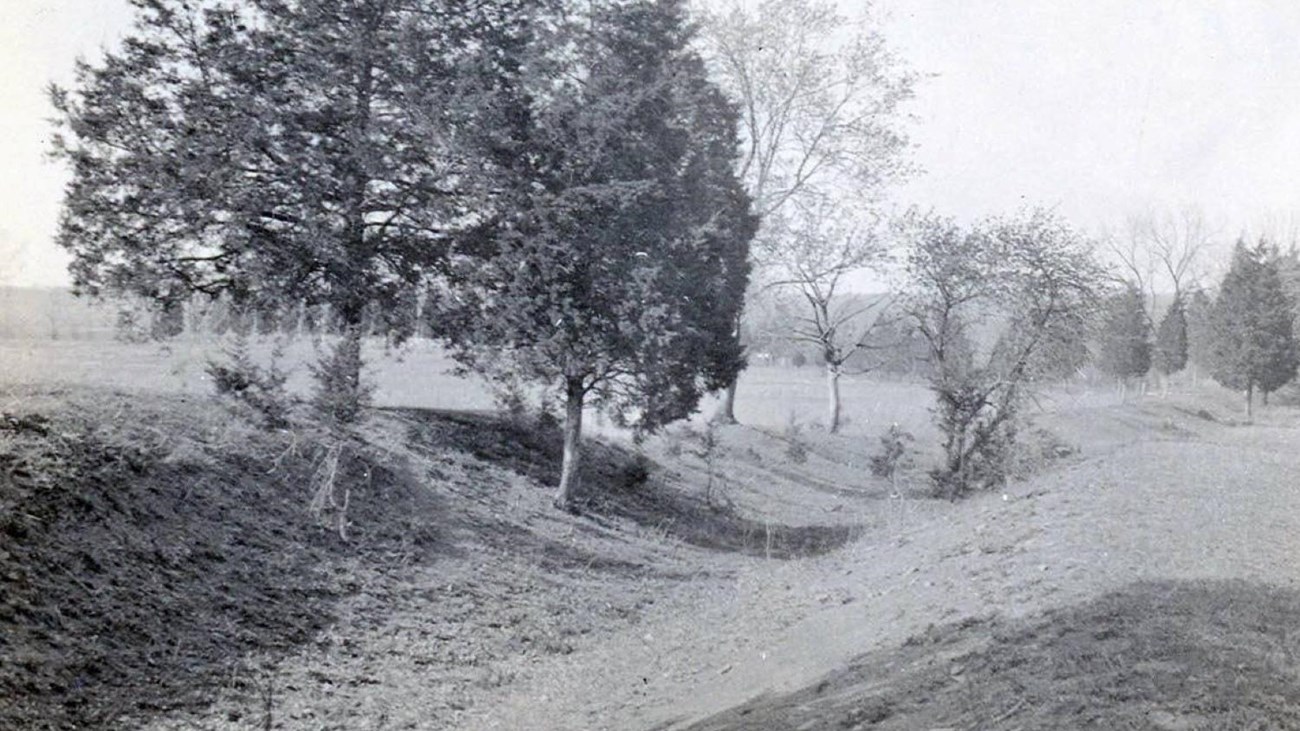 Distance: 1.2 mile roundtrip hike 

Difficulty: Easy-Moderate

Hiking Time: 1 hour
---
1. Begin at the Unfinished Railroad Parking Lot (Tour Stop #6).  

2. Take the fork to the left to begin the trail. Interpretive markers along the trail discuss the fighting along the Unfinished Railroad during August 29, 1862. 

3. The trail loops back to the parking lot along the Federal side of the railroad.
---
Begin your walk at the Unfinished Railroad parking lot (Tour Stop #6) off Featherbed Lane. The trail heads northeast along the unfinished railroad, where Stonewall Jackson placed his Confederate troops. Interpretive markers discuss the bayonet charge by Cuvier Grover's Union brigade on August 29, 1862, which briefly punctured the Confederate defensive line. Before looping back to the parking lot, hikers have the option of continuing down the railroad bed, via the Sudley Connector Trail, to Sudley Church. The Sudley Church area served as the Confederate army's left flank during the Battle of Second Manassas.

The average hiking duration does not take into consideration fitness, exploration, rest, contemplation, wayside reading, etc.

Entrance fees may apply, see Fees & Passes information.

Location

Unfinished Railroad Parking Lot, Stop #6

Park is open during daylight hours. 

Accessibility Information

  This trail does not meet ADA accessibility guidelines. 
Parking Lot
Unfinished Railroad Parking Lot
6 total spaces

0 oversized spaces

38.82561411325664, -77.54880094029724
Lot on Featherbed Lane. One of two lots to access the Unfinished Railroad Trail and the Deep Cut Trail. One of several access point for the Second Manassas Loop Trail. Driving tour stop number four. Park in designated spaces only. No equestrian trailer parking.
Amenities
Accessible Lot

Yes

Number of ADA-designated spaces

1

Number of ADA van-accessible spaces

0

Number of ADA step-free spaces

0

Total number of spaces

6

Number of oversize vehicle spaces

0
Last updated: January 23, 2022