THING TO DO
Travel Through Time at the Franklin Delano Roosevelt Memorial

Explore the national memorial dedicated to Franklin Delano Roosevelt, the 32nd president of the United States. Its four open-air rooms represent each of the four terms of office to which he was elected. A meandering pathway leads past waterfalls, bronze sculptures, and FDR's own powerful words carved on the granite walls.
Pets are allowed in all areas of this memorial, provided they are restrained on a leash no longer than 6 feet.
Entrance fees may apply, see Fees & Passes information.
Location
Franklin Delano Roosevelt Memorial
Located along the Tidal Basin in Washington, DC. To experience the memorial in timeline order, start and the westernmost end of the memorial (nearest the Martin Luther King, Jr. Memorial).
Visit anytime. The fountains typically operate during spring, summer, and fall months.
The memorial is opened 24 hours a day, and is lit at night.
Accessibility Information
The memorial is fully wheelchair accessible.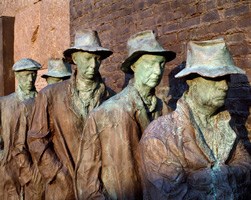 The memorial honors the memory of one of America's great leaders and the optimism and courage that he shared with his fellow citizens through the ordeals of the Great Depression and World War II. A statue of Roosevelt sitting in a wheelchair greets visitors and reminds them of the man who refused to let disability stop him.
The waterfall crashes over scattered boulders, or visit the statues of Franklin and Eleanor Roosevelt. You can even bring your pup to the park to see their beloved dog Fala—a frequent attendee of White House meetings.
Last updated: July 24, 2018