Thing to Do
Tidepooling at the Schoodic Peninsula

Exploring the Tide Pools at the Schoodic Peninsula
The Schoodic Peninsula is located in Winter Harbor, about an hour away from Bar Harbor. The peninsula is surrounded on three sides by rocky shoreline and provides many places for tidepooling. Please review the safety guidelines provided on this page before exploring.  
Know When to Go
This rocky tidepooling area is exposed at low tide. The opportunity to tidepool occurs between the window of time 1.5 hours before to 1.5 hours after low tide. It is best to start tidepooling before low tide and to leave as the tide is rising.
Before you head out to the intertidal zone on your own, check the tide chart for Schoodic Peninsula.
Activity
Wildlife Watching
Although the activity is free, a 
park entrance pass
 is required for all areas of the park from May 1 through October 31.
Location
Schoodic Peninsula
Season
Spring, Summer, Fall
Accessibility Information
Tidepooling at Schoodic Peninsula is not accessible. Most tide pools are located in uneven rocky areas and near the coastline that is slippery with algae.

There is a restroom available at Frazer Point. There are no restrooms available at Blueberry Hill or Sundew Trail.
Tidepooling Locations at Schoodic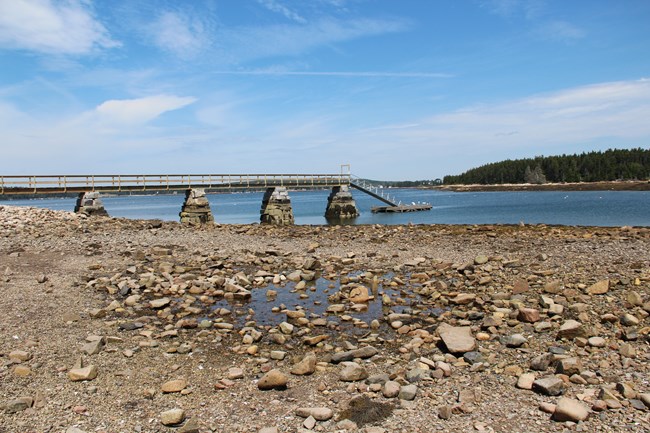 Frazer Point
Located on Schoodic Loop Road before the one way begins. To the right of the pier is a large tide pool that is easy to access and is exposed a few hours before and after low tide. You can walk along the coast to reach tide pools that are closer to the water. These are a little more difficult to reach and require walking on loose rocks and slippery brown algae.
Distance: 0.25 miles
Terrain: Right side of the pier: grassy lawn, sandy, loose rocks; left side of the pier: bigger loose rocks, uneven footing, slippery algae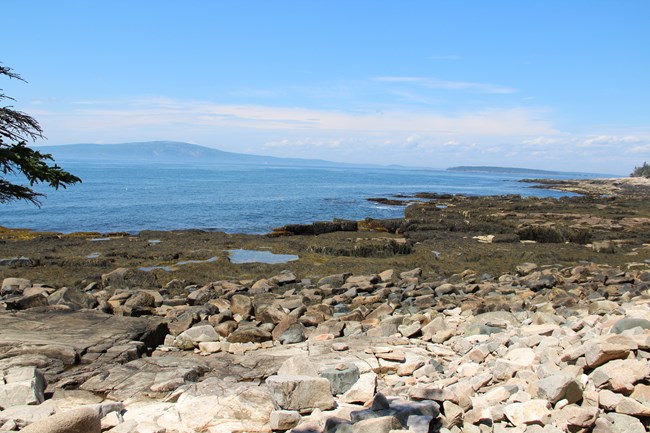 Sundew Trail's Cobble Beach
Located at the Schoodic Education and Research Center. You can park in the Campus Parking Lot and walk towards the woods near the buildings to find the Sundew Trailhead. After a short walk (0.3 miles) on the trail, take a left to go down to Cobble Beach. Walk carefully on the slippery algae to reach small tide pools.
Distance: 0.6 miles round trip (to Cobble Beach and back) or 0.8 miles to do the whole trail
Terrain: Trail is easy and slightly rugged; loose rocks from trail to tidepool, uneven footing, SLIPPERY algae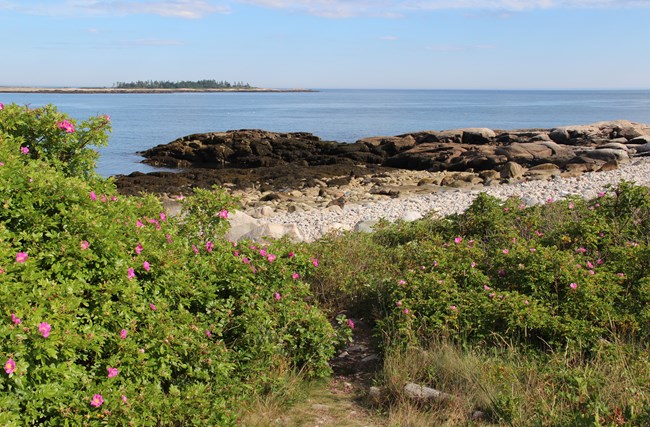 Blueberry Hill
Located on the outbound portion of Schoodic Loop Road. From the parking lot find the path that leads to the water. Be careful as you walk along the loose rocks. There are easy to reach tide pools along the bare rocks. Be careful not to step on the hundreds of periwinkles. You can walk along the coast to find other tide pools but they require walking on slippery brown algae.
Distance: 0.25 miles
Terrain: loose rocks, uneven footing, slippery algae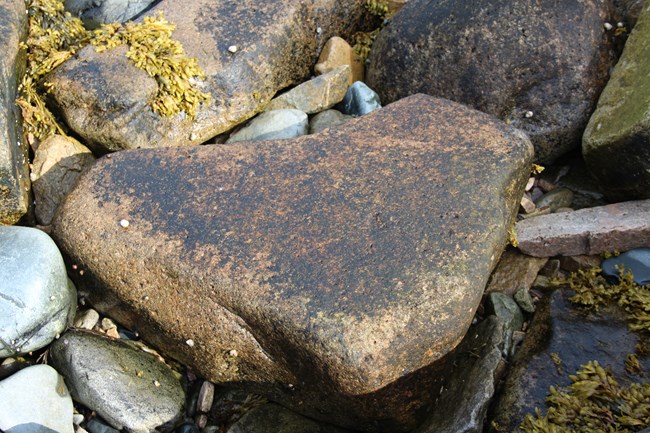 Safety and Etiquette
Before exploring, wash off sunscreen, hand sanitizer, and bug spray.
Do not wade into the tidepools.
We are guests in these animals' homes. Use a light step!
Leave the park as you found it. Never use force to remove anything.
Slow is the Way to Go
Step carefully and slowly. Seaweed is slippery, and rocks can be wet, loose, and/or sharp.
Protect Your Feet
Wear closed-toed sturdy outdoor shoes.
Eyes on the Sea
Keep a safe distance from the sea, and watch those waves.
Kids Stay Close
Small children should stay within arm's reach of adults.
"Sea" a Whole New World
Get low, look closely and carefully, and have patience!
Last updated: October 20, 2020