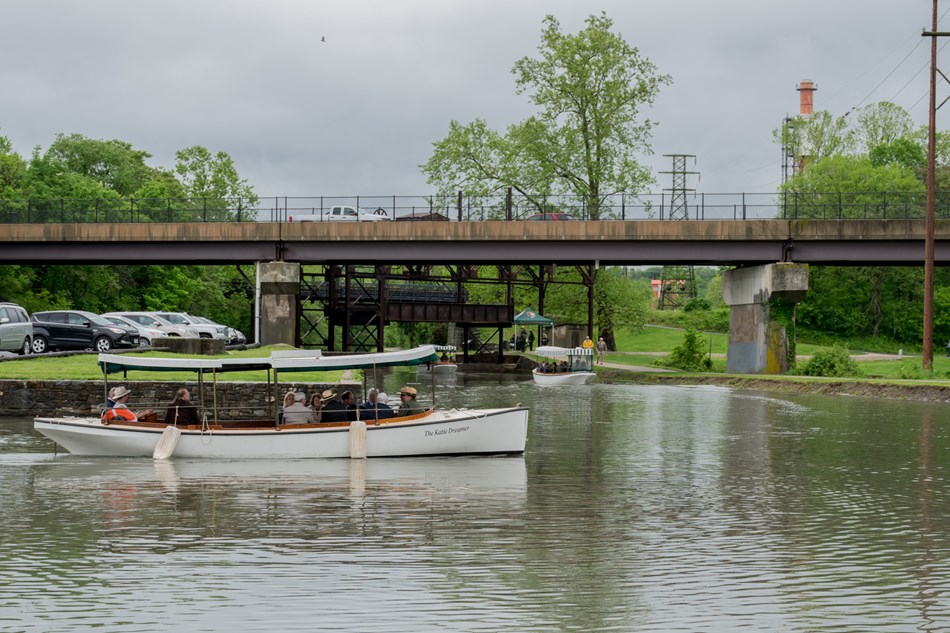 The Chesapeake and Ohio Canal
Williamsport, MD Cushwa Basin visitor center
is one of many charming stops along the Potomac River. In the 1870's, Victor Cushwa partnered with Charles Embrey & Son in the operations of Cushwa Basin Coal company. Canal boats would load coal and bricks at the turning basin on their trips between Cumberland and Georgetown.
Check the
Williamsport, MD Cushwa Basin visitor center
page for information on boat tour times and seasons. Typically boat tours are offered in the summer months and are free of charge.
Tours are limited to 12 people. Animals are not allowed, with the exception of service animals. Inclement weather may cause tour to be cancelled; call the Williamsport Visitor Center for updates. Reservations are taken 7 days in advance, starting on May 19, 2018. For more information, call the Williamsport Visitor Center from March-November, Wednesday through Sunday 9:00am-4:30pm at (301) 582-0813.
Through the Visitor Center, you can enter the old Cushwa warehouse. This large room provides a sweeping glance out from the coal portage onto the basin where coal would have been swept into waiting canal boats as they made their way to and from Georgetown. Many of the objects in this room were either left behind by the warehouse workers or fished out of the bottom of the turning Basin. These presence of these objects creates an immersive, rustic atmosphere.