Thing to Do
Stone Bridge Loop Trail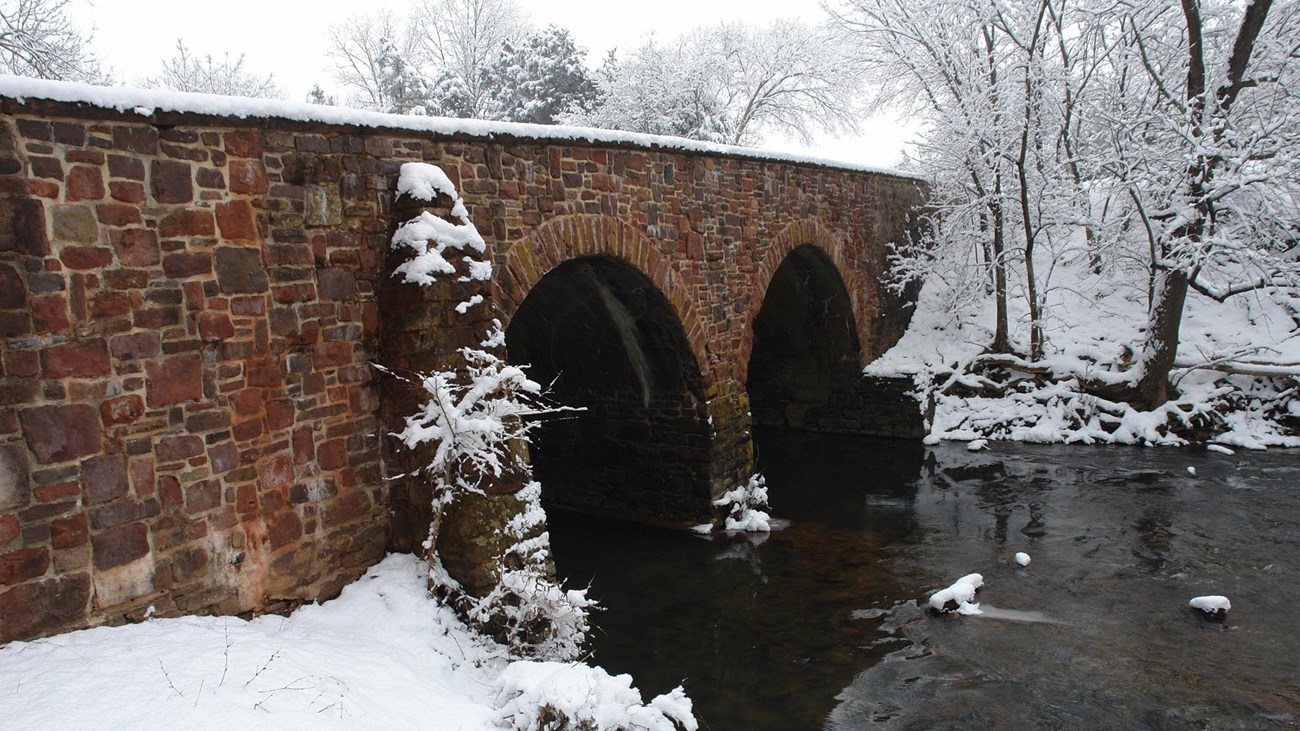 Distance: 1.3 miles

Difficulty: Moderate

Hiking Time: 1 Hour
---
1. Start from the Stone Bridge parking lot at the side closest to Bull Run. 

2. Start walking down the trail and across the Stone Bridge. 

3. Upon crossing the Stone Bridge, follow the path to the right along Bull Run. Follow markers and path. 
---
Begin your hike at the Stone Bridge parking lot (Tour Stop #12). Follow the trail down to the post-war Stone Bridge (Confederate troops destroyed the war-time bridge in 1862), where Union forces deployed to divert Confederate attention from the main advance upstream. Upon crossing the bridge, the trail continues along Bull Run with its picturesque displays of wildflowers in the spring and colorful foliage in the fall. The trail ascends a steep bluff to the overlook of Farm Ford, where Union troops led by Col. William T. Sherman crossed Bull Run on the day of the battle. Turning west away from the stream, the trail emerges out in the open fields of the war-time Van Pelt property. Visitors will pass the site of the Van Pelt home, 'Avon,' used by Confederate Col. Nathan G. Evans as his headquarters. The trail cuts back over a watershed area with excellent birding opportunities from the wooden boardwalk through the marsh.

The average hiking duration does not take into consideration fitness, exploration, rest, contemplation, wayside reading, etc.

Park is open during daylight hours.

Accessibility Information

This trail does not meet ADA accessibility guidelines. 
Parking Lot
Stone Bridge Parking Lot
53 total spaces

3 oversized spaces

38.8250685275, -77.501825509
Closest parking to the Stone Bridge over Bull Run Creek. Only parking lot directly on the Stone Bridge Loop Trail and one of several access points for the First Manassas Loop Trail. Driving tour stop eleven. Please park in designated spaces only.
Amenities
Accessible Lot

Yes

Number of ADA-designated spaces

3

Number of ADA van-accessible spaces

1

Number of ADA step-free spaces

3

Total number of spaces

53

Number of oversize vehicle spaces

3
Last updated: February 22, 2022