Thing to Do
Hiking the Potkopinu Section of the Natchez Trace National Scenic Trail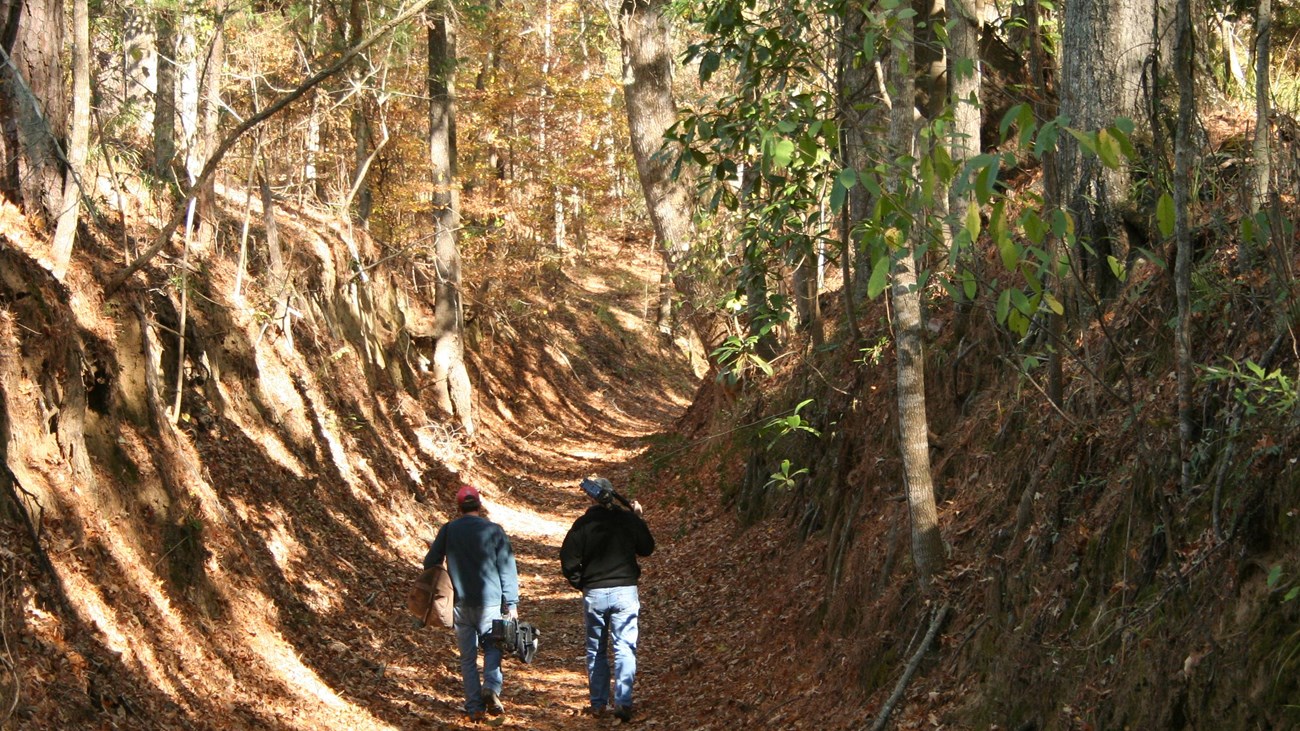 Potkopinu (Pot-cop-i-new), the southernmost section of the Natchez Trace National Scenic Trail, is only three miles long, but it is the longest stretch of "sunken" historic Trace remaining. Named for the Natchez word meaning "little valley." Thus trail cuts deep into the rich, fine-grained soil. It doesn't take much to erode this type of soil, and centuries of human and animal traffic have done an impressive job. This trail has some embankments over twenty feet high!

The land surrounding the trail is private property. Please stay on the trail at all times.

Safety Alert: Prepare to walk through water at stream crossings. Crossing conditions vary from muddy areas to knee-deep water, depending on rainfall. 

Horses are not permitted on the Potkopinu section.

Contour map of the Potkopinu Section of the Natchez Trace National Scenic Trail

Camping is not permitted along this section of trail. All camping must take place in designated campgrounds unless you received a special use permit in advance. See Camping along the Natchez Trace Parkway for additional information.

See Maps for basic maps of all five developed sections of the Natchez Trace National Scenic Trail.

See Alerts & Conditions for additional information.

Trailheads on the Potkopinu Section of the Natchez Trace National Scenic Trail
Northern Terminus Trailhead at Road 553(near Milepost 20): This trailhead is the larger of the two for Potkopinu. Vehicles may be parked parallel to the road. If you have an oversized vehicle this is the only place to park to access this trail. To reach this trailhead exit the Parkway at Milepost 20. Turn left (east) on Road #553 known as River Road. Turn right onto a dirt road and travel a short distance and parking is on the right.

Southern Terminus Trailhead at Milepost 17: This trailhead has room for a few cars. There is no overflow parking at this location. This locations is not recommended for oversized or recreational vehicles. Follow the signs on the Parkway to reach this trailhead. You will travel on dirt roads to reach the trailhead.
This trail is three miles in one direction.
Pets must stay on a 6 foot leash and controlled at all times. Owners are responsible for cleaning up after their pet.
Entrance fees may apply, see Fees & Passes information.
Location
Natchez Trace Parkway near Fayette, Mississippi
Accessibility Information
This trail stretches for 3 miles in total. The trail is about 3 to 4 feet wide and goes over uneven terrain. The trail can get muddy due to use as well as after rainfall. There are several stream crossings along the trail as well that vary from muddy to knee-deep depending on rainfall.
Last updated: November 4, 2021