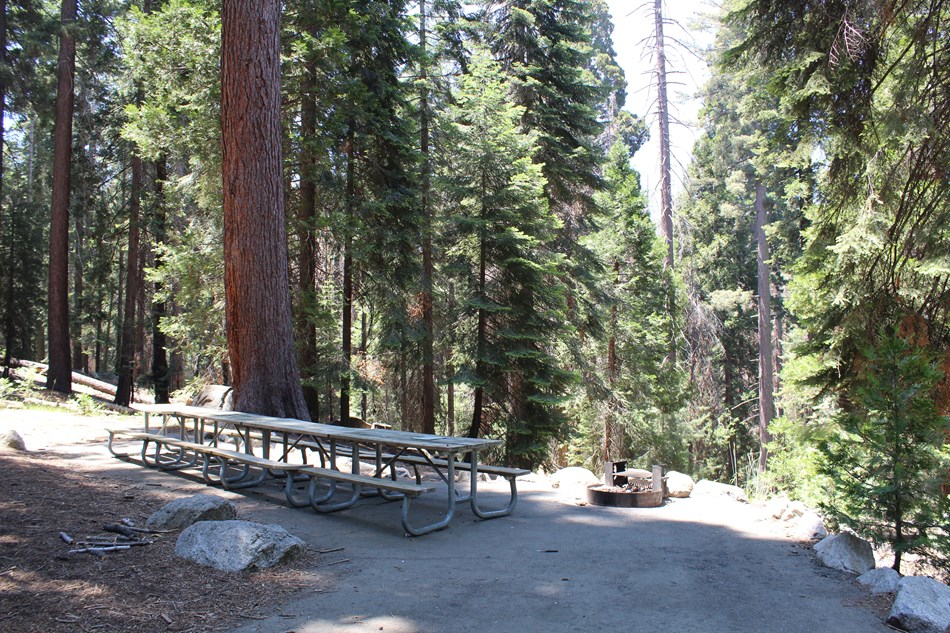 Getting hungry? Refuel and refresh at one of the many picnic areas between the Giant Forest and Grant Grove. Enjoy sandwiches by a peaceful meadow or barbecue under towering trees.
Pinewood:
1.1 miles north of Giant Forest Museum. Picnic in the Giant Forest at Pinewood Picnic Area, which features barbeque grills and water spigots.
Wolverton:
4.2 miles north of Giant Forest Museum. Near popular day hikes, backpacking trails, and a winter snowplay area, Wolverton offers both barbeque grills and water spigots. In summer,
the Orange Route (General Sherman Tree Trails) shuttle
stops here.
Lodgepole:
Lodgepole Picnic Area is across the road from Lodgepole Visitor Center. Grab lunch or some snacks at the nearby market or deli and enjoy them by the banks of the Marble Fork of the Kaweah River. The picnic area offers provides water but no barbeque grills.
Halstead Meadow:
Take a break by this restored meadow, where you'll find barbeque grills but no on-site water. 3.9 miles north of Lodgepole.
Crescent Meadow:
Crescent Meadow Picnic Area is 2.6 miles from Giant Forest Museum, at the end of Moro Rock - Crescent Meadow Road. Nearby, visit Moro Rock and several trailheads. The picnic area rests at the edge of a lush meadow. It does not have water or grills. In summer, take the
free park shuttle's Gray Route
from Giant Forest Museum.