Thing to Do
Participate in a Ranger Walk or Talk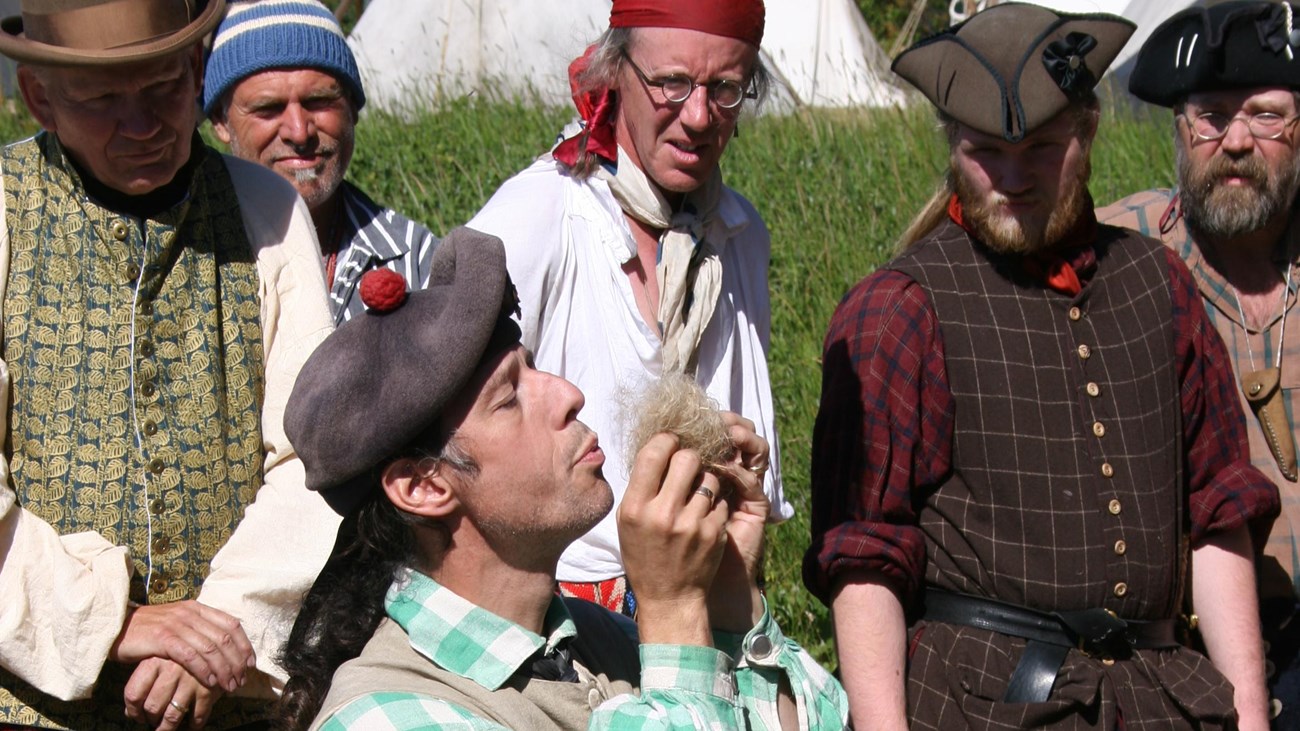 Stop by the Heritage Center for a list of today's programs. Learn how to build a canoe, take a hike with a ranger, find out what is growing in the heirloom garden, and see what kind of food the men of the North West Company ate.
Activity
Craft Demonstrations
The activities vary with the season and location. Check at the Heritage Center for a list of today's programs. Ranger talk about Anishinaabe crafts, canoe building, baking bread in a period oven, and much more.
With the exception of service animals, pets are not allowed inside the Heritage Center or inside the Depot grounds.
Grand Portage National Monument is a fee free area.
Season
Spring, Summer, Fall
The Grand Portage National Monument grounds and trails are open from sunrise to sunset daily. Historic Depot is open from 9am-5pm daily from Memorial Day through late October. Heritage Center is open daily from 8:30am-4:30 pm daily except for holidays noted on Visitor's Center page.
Historic Depot is open from 9am-5pm daily from Memorial Day through late October.
Accessibility Information
A sidewalk connects the parking area, which has two accessible parking areas, to the Heritage Center. Two floors of exhibits in the Heritage Center are completely accessible. The sidewalk outside the Heritage Center continues to the crosswalk at Mile Creek Road (County Road 17).Please use caution while crossings as Mile Creek Road is the most used road by Grand Portage After the crosswalk, the path becomes a hardened gravel accessible trail throughout the historic site. The path goes through the Ojibwe Village. A path that does not meet accessibility standards leads down to the Voyageurs Encampment.

A ramp connects the canoe warehouse to the hardened pathway. Interpretive exhibits include the largest birchbark canoes you will ever see plus displays and programs presented inside, all of which are accessible.

A ramp located on the west side of the kitchen, allows entry to the back door of the kitchen. Another ramp from the kitchen's east side, allows access to the main gate under the gatehouse and a view of the Grand Portage footpath and the Mount Rose Trail which are not accessible pathways.

An accessible breezeway connects the kitchen to the great hall which also accessibly connects to all porches of the reconstructed kitchen and great hall. Interpretive exhibits, hands-on displays, video programs, and ranger conducted interpretive activities that are offered in these buildings are accessible.

Restrooms in the historic site are connected to the accessible trail. Each restroom includes an accessible stall.

Two wheelchairs are available free of charge to use during your visit. Wheelchairs are located in the Heritage Center and in the great hall. Please ask monument staff for assistance.
Last updated: March 18, 2022