Thing to Do
Paddle the Anacostia Water Trail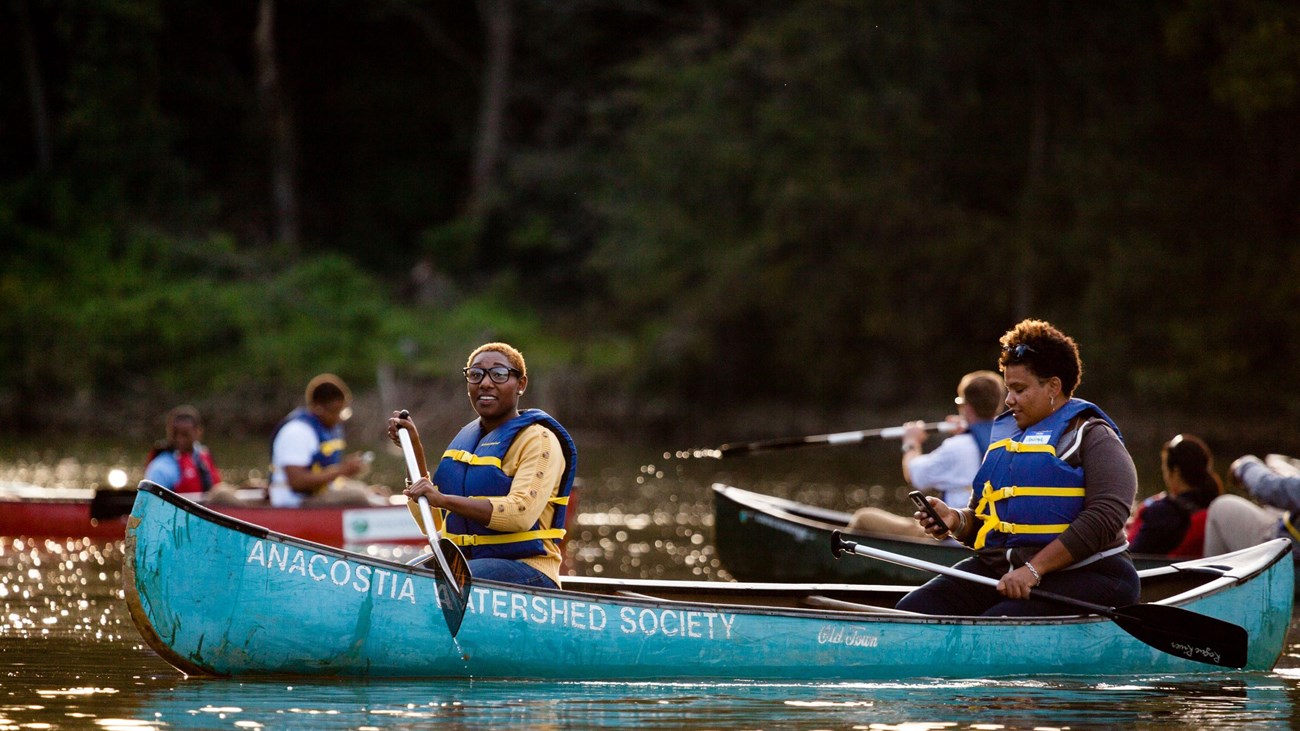 Trail Overview
The Anacostia Water Trail covers a nine-mile stretch of the Anacostia River, running from Bladensburg, Maryland, through Washington, DC, to its juncture with the Potomac River about two miles south of Capitol Hill. Along this trail, the character of the river varies remarkably. Upstream you'll find forests, wetlands, and wildlife that seem amazingly removed from the city. Downstream are hubs of riverfront recreation, with community parks, restaurants, and sporting events.
The trail is managed by the
Anacostia Watershed Association
. Public boat lanches are located at several points along the trail, including at the north end of Anacostia Park (off of Anacostia Drive SE, and at 
Bladensburg Waterfront Park
 (4601 Annapolis Rd, Bladensburg, MD 20710). 
Learn more
about the trail. 
History
American Indians 
People lived on the banks of the Anacostia as early as 9,500 B.C.E. During the 17th century, the Indigenous towns recorded by Captain John Smith at the intersection of the Anacostia and the Potomac Rivers were Namoraughquend, Assaomeck, and Namassingakent. These towns were located just below the Potomac's Great Falls. Every spring, people gathered at the river's edge, eagerly awaiting the return of migratory fish from the Chesapeake Bay. 
The town of Nacotchtank was the largest in the area, and its location at the conflux of the two rivers and in the transition from upland to tidewater made it a major crossroads for travel and trading between distant tribes. Nacotchtank was inhabited by the Nacotchtank people, who are also known as the Anacostans – the origin of the name Anacostia we use today.
This area is part of the ancestral homeland of the Piscataway people. Their descendants still live here, some as members of the Piscataway Conoy Tribe & Sub-Tribes, the Piscataway Indian Nation, and other Tribal organizations.
War of 1812
The Battle of Bladensburg on August 24, 1814, ended in defeat for the United States and allowed the British to invade Washington, D.C. Once the Americans realized the British route of advance, there was little time to prepare. They hastily established lines of defense near the port town of Bladensburg, where the British would cross the Eastern Branch of the Potomac (known today as the Anacostia).
The poorly trained and ill-equipped American militia, though superior in number, were no match for the seasoned British army. That night, as buildings in Washington burned and the victors ravaged the White House, news of the rout at Bladensburg spread throughout the countryside.  
Entrance fees may apply, see Fees & Passes information.
Accessibility Information
Last updated: April 9, 2021