Thing to Do
Matthews Hill Loop Trail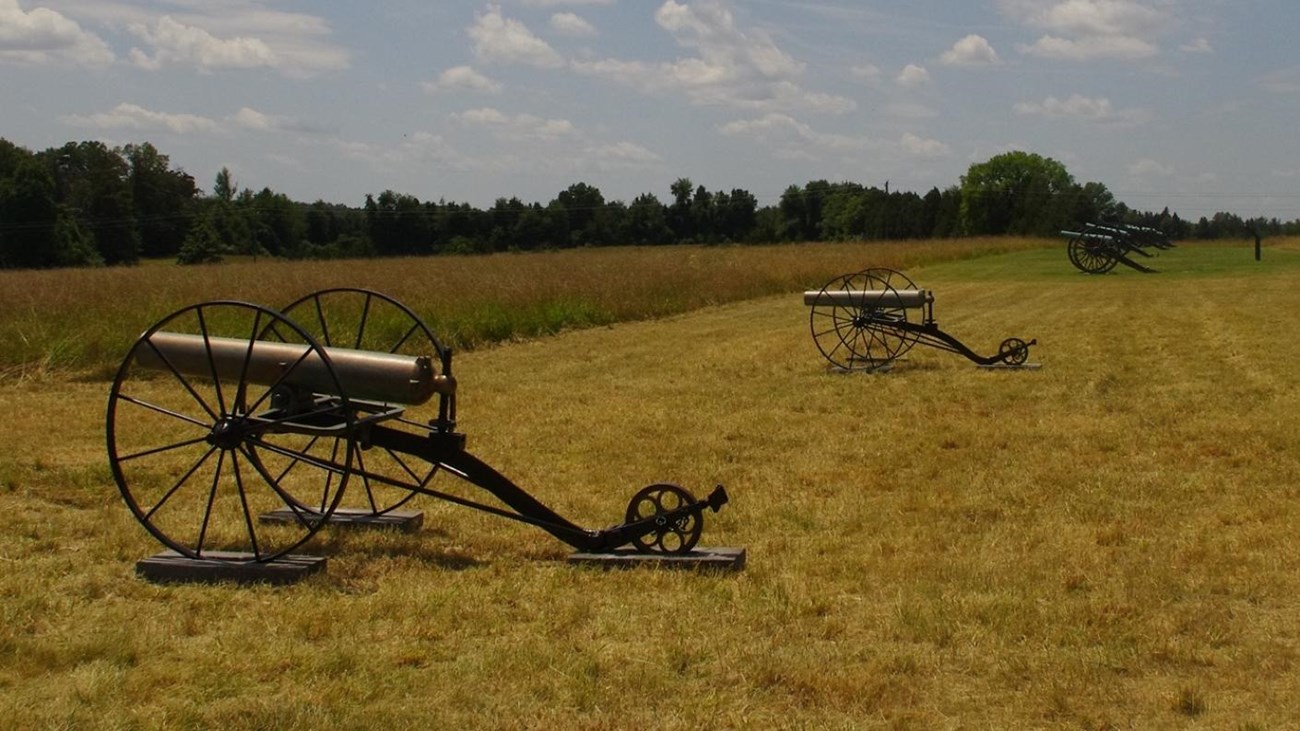 Distance: .9 miles

Difficulty: Easy

Hiking time: 
---
1. Start from the Matthews Hill Parking Lot (Auto Tour Stop #4). At the north side of the lot, an interpretive panel describes the fighting on Matthews Hill. The trail begins to the side of the sign. 

2. Start walking up the hill until you reach a line of cannons. At this point, the Visitor Center wlil be visible to your front. 

3. Follow mowed path down the hill before the trail turns east into the woods.  

4. Follow signs as the trail loops back to the parking lot. 
---

Explore the ground on which the opening phase of combat occurred during the Battle of First Manassas (Bull Run).Begin your walk at the Matthews Hill parking lot (Tour Stop #4).The trail leads up the crest of the hill to Capt. William Reynolds' battery of Union artillery. From this vantage point, visitors can observe the landscape from Union artillery positions that overlook the historic Stone House and Confederate artillery positions on distant Henry Hill. Scenic vistas looking south and west give an excellent view of major portions of the battlefield. The trail descends down the front slope of Matthews Hill before turning east and entering the woods.Visitors will soon come upon the Stovall monument, marking the approximate location where Pvt. George Stovall of the 8th Georgia was killed. The trail loops back by paralleling the Union battle line, with trailside markers indicating the approximate location of Federal regiments during the combat.

The average hiking duration does not take into consideration fitness, exploration, rest, contemplation, wayside reading, etc.

Park is open during daylight hours.

Accessibility Information

This trail does not meet ADA accessibility guidelines. 
Parking Lot
Matthews Hill Parking Lot
14 total spaces

1 oversized spaces

38.82670121295178, -77.53372805293114
Parking lot off of Sudley Road. Access point for the Matthews Hill Loop Trail. Is one of several access points for both the First Manassas Loop Trail and the Second Manassas Loop Trail. Driving tour stop number four. Please park in designated spaces only. No equestrian trailer parking.
Amenities
Accessible Lot

Yes

Number of ADA-designated spaces

1

Number of ADA van-accessible spaces

0

Number of ADA step-free spaces

1

Total number of spaces

14

Number of oversize vehicle spaces

1
Last updated: March 24, 2022