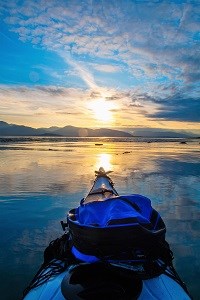 All campers (including kayakers) are required to attend a camper orientation, held daily upon request at the Bartlett Cove Visitor Information Station near the dock. This session is for your benefit: to answer your questions, provide you with a tide table, inform you of special wildlife and safety closures or to assist in planning your trip. You will be asked to fill out a backcountry registration form at that time and a wilderness survey form when you return from your trip.
Ranger Recommendation
Even in the summer months, the weather can be unpredictable and harsh in Glacier Bay. Make sure to check forecasts ahead of time, and always be prepared with extra layers and rain gear. It's also important to familiarize yourself with the tidal predictions and always store your kayak well above high tide line.
If you're not a confident paddler or just prefer to explore these waters with the guidance of a pro, concessioners in the park provide guided day and overnight kayak trips.