THING TO DO
Listen for the Sound of Sticky Ink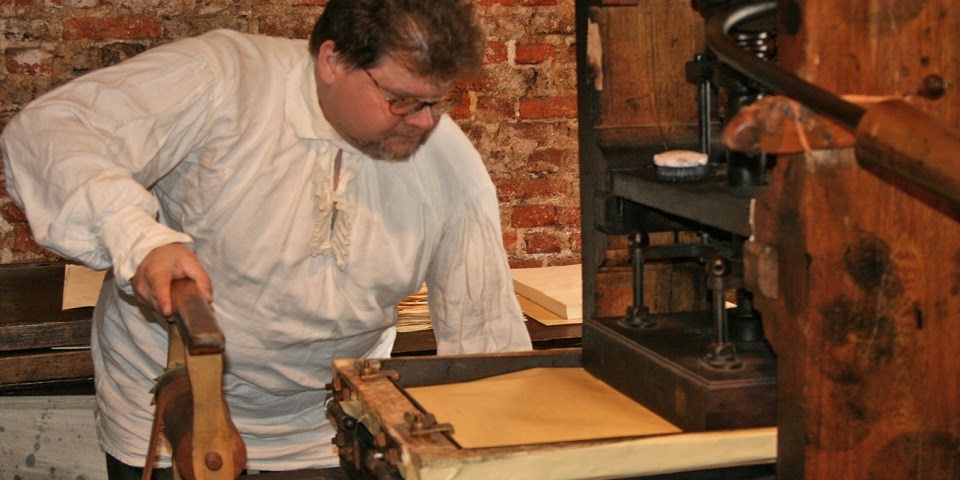 It's not as easy as pressing a button, but this kind of printing once changed the world.
As a printer himself, Benjamin Franklin understood the power of the press. Franklin's printing office no longer survives, but it would have had equipment similar to what you'll see in the
Franklin Court Printing Office
. Visitors can see firsthand how an 18th-century printing office operated, and experience whatever the park ranger is working on—whether it's typesetting or printing. Listen closely to the sticking sound as the paper separates from the metal typeset. Share a photo on social media and think about the power of words and images. Ben Franklin thought about that all the time.
Pets are not allowed inside public buildings, unless a designated assistive animal. 
Entrance fees may apply, see Fees & Passes information.
Location
Franklin Court Printing Office
The Franklin Court Printing Office is in Franklin Court. Enter the courtyard from either Market or Chestnut Street, between 3rd and 4th Streets. The entrance door for the Printing Office is in the courtyard, just to the west of the brick archway.
Last updated: June 29, 2018