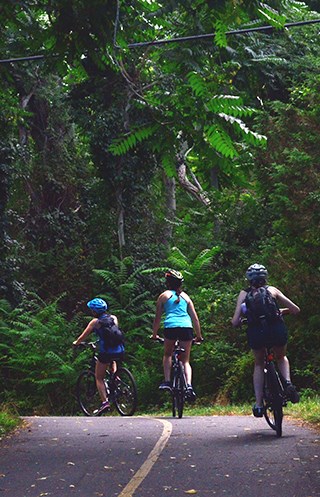 'Cause All I Want to do is... Bicycle!
It's time to break out those wheels and hit the trail! The Province Lands Bicycle Trail offers an adventure over blowing dunes, through green forests, past glistening ponds and out to two of Cape Cod's pristine beaches!
There's no better way to start off a day before you go to the beach, or finish off a day of learning at the Visitor Center than to head out for a leisurely bike ride through the Province lands. The 5.45-mile loop trail covers a variety of environments. A .5-mile spur connects the loop trail to Race Point Beach, and a 1.1-mile spur connects the loop trail to Herring Cove Beach.
Remember to practice good bike safety!
Speed limit is 10 mph.

Yield to pedestrians and horses.

Ride single file.

Stay to the right, except when passing.

Helmets required for ages 16 and under, strongly urged for all.

Walk bikes through tunnels.