Thing to Do
Experience the Huna Tribal House

Glacier Bay National Park and Preserve is the ancestral homeland of the Huna Tlingit clans who sustained themselves for centuries on the abundant resources of the land and sea. Although villages inside the Bay were overrun by the Little Ice Age glacial advance of the 1700's, the Huna Tlingit re-established numerous fish camps and several villages in Glacier Bay soon after glacial retreat. The
Huna Tribal House
memorializes the clan houses that once lined the shores of present day Bartlett Cove, now the site of National Park Service headquarters in Glacier Bay. 
Entrance fees may apply, see Fees & Passes information.
The Huna Tribal House is located on the Tlingit Trail, near the Visitor Information Station.
Accessibility Information
The Huna Tribal House is accessible on the Tlingit Trail, which is a six foot wide compacted dirt trail. The trail is mostly flat, but may have rocks and roots on the surface.
Learn more about
accessibility in Glacier Bay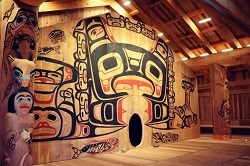 During your visit, learn about the history of the Tlingit and their connection to their homeland of Glacier Bay. See the Huna Tribal House, the first permanent clan house in Glacier Bay since the Little Ice Age glacial advance, and the eagle and raven totem poles. During the summer, special presentations and guided programs are sometimes offered at the tribal house to share Tlingit culture with those who visit the park.
Ranger Recommendation
The paths along Bartlett Cove and near the tribal house are filled with informative exhibits about the natural and cultural history of the park. After seeing the tribal house and totems, explore the surrounding area to see Tlingit tree carvings, a traditional dugout canoe, and read about how the Tlingit people have been and still are connected to this land.
Last updated: November 1, 2023