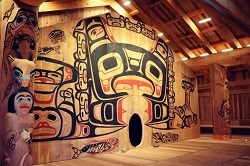 During your visit, learn about the history of the Tlingit and their connection to their homeland of Glacier Bay. See the Huna Tribal House, the first permanent clan house in Glacier Bay since the Little Ice Age glacial advance, and the eagle and raven totem poles. During the summer, special presentations and guided programs are sometimes offered at the tribal house to share Tlingit culture with those who visit the park.
Ranger Recommendation
The paths along Bartlett Cove and near the tribal house are filled with informative exhibits about the natural and cultural history of the park. After seeing the tribal house and totems, explore the surrounding area to see Tlingit tree carvings, a traditional dugout canoe, and read about how the Tlingit people have been and still are connected to this land.