Thing to Do
Hiking Backcountry Camping Trail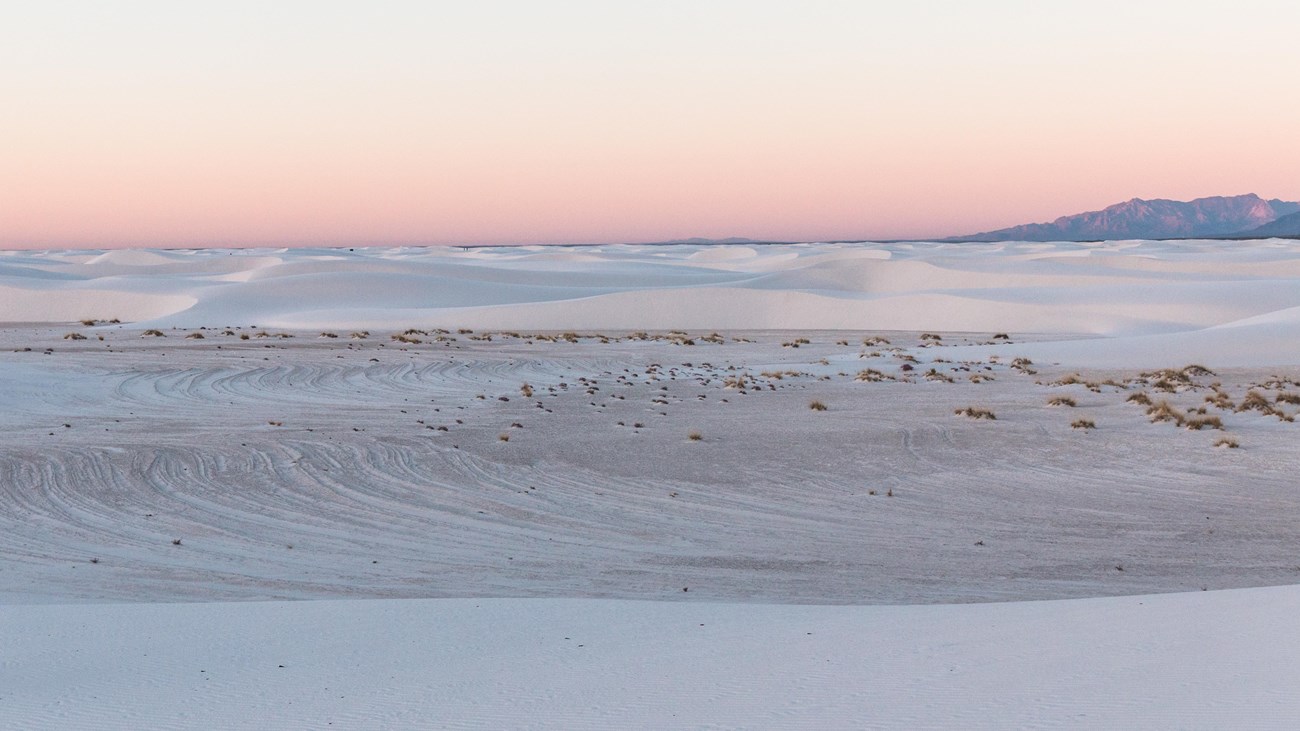 Explore the White Sands Backcountry to catch a view of gorgeous landscape with the stunning San Andres Mountains to the west. Along the Backcountry Camping Loop Trail, you're likely to see bleached earless lizards, towering soaptree yuccas, and the occasional white moth. This loop is also a good place to see a fiery White Sands sunset. 
This is a 2 mile loop (3.2 kilometers) that is rated as moderate to strenous and climbs 40-50 foot (12-15 m) dunes throughout
This hike takes an average of 2-3 hours to complete
Follow the orange spade trail markers to complete the trail. If you're unable to see the next marker, turn around and go back to the trailhead. 
Ranger Recommendations
Look carefully for the next trail marker before continuing. If you cannot see the next trail marker because of blowing sand or because the trail marker is knocked down, do not proceed—return to your car. Strong winds can reduce visibility to a few feet, making it easy to become lost.
Bring plenty of water for your family and pets. One gallon (4 Liters) of water per person per day is recommended, as well as high-energy snacks such as fruit, nuts, and energy bars. Fill up water containers at the visitor center. There is no water available in the dunefield.
This trail has very little shade. Use adequate sun protection.
Visit our Hiking Safety page for more recommendations about hiking in the unique conditions of White Sands National Park
Time varies by hiker speed. Allow at least 2 hours for this moderately strenuous trail. 
Activity
Front-Country Hiking
Not recommended for small children.
Pets are allowed on a leash of maximum 6 feet length.
Please remember to clean up after your pet. 
Pets need plenty of water!
Standard park entrance fees apply.
Parking lot for the trailhead is on Dunes Drive, 6.5 miles (10.5 km) from the visitor center. 
Accessibility Information
This trail is not ADA accessible. This hike includes walking up and down sand dunes of up to fifty feet on loose gypsum sand. 
The park's only accessible trail is the 
Interdune Boardwalk
. 
Tags
Last updated: October 19, 2023