THING TO DO
Hike to Fort Falls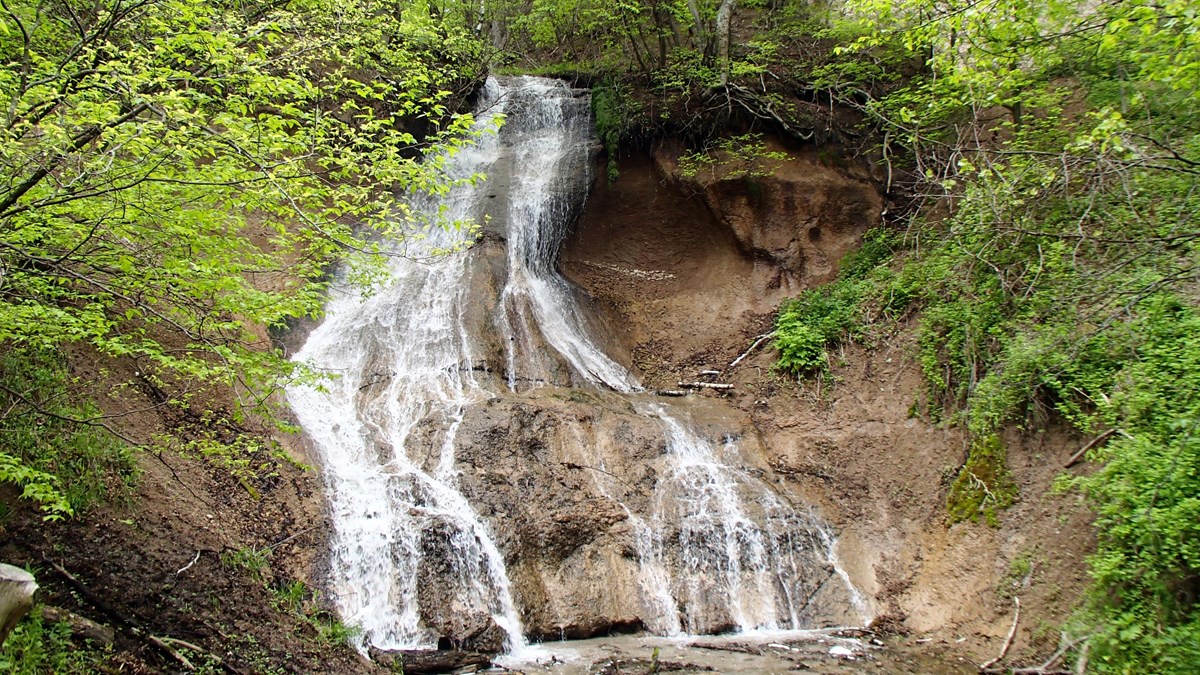 A great trail for all ages and abilities, the Fort Falls Trail is a 1.0 mile round loop with two trailheads.
This trail features the 45-foot-tall Fort Falls Waterfall, along with scenic views of the Niobrara National Scenic River, and scenic overlooks of the six ecosystems that meet at the river's banks.
The Fort Falls Upper Trailhead in the Fort Niobrara National Wildlife Refuge quickly leads hikers down to the canyon floor using metal walkways and stairs. You can examine every level of the tree canopy on your way, and walk over the stream that feeds the Fort Falls.
There is a viewing platform for the Fort Falls where you can enjoy the shade and splash of the water against the canyon floor. Following the stream further, you'll come to the shore of the Niobrara National Scenic River, and the steep walls of the canyon can be seen at a distance along with different soil layers that contribute to the
unique geology
of the Niobrara River Valley.
The trail continues up the river's bank with strategic benches for taking breaks along the way. The Lower Trailhead is located at the Bur Oak Picnic and Parking Area on the
Fort Niobrara National Wildlife Refuge
. The remaining distance of trail leads hikers further up along the canyon wall through deciduous and coniferous forest systems with information signs for learning along the way. Hikers can follow this leg of the trail back to the Fort Falls Upper Trailhead and Parking area.
Accessibility Information
This trail is not accessible. The section that is paved is not well maintained and is rough with weeds growing out of the pavement. The metal walkway has a few steep areas, though it could potentially accommodate a wheel chair for viewing of the upper stream that feeds the Fort Falls. There is a set of about 40 metal stairs that take visitors to the base of the Fort Falls Waterfall that can be slick and uneven. The rest of the trail is single track dirt and sand than can be as narrow as 12 inches across.