Thing to Do
Hike the Petrified Forest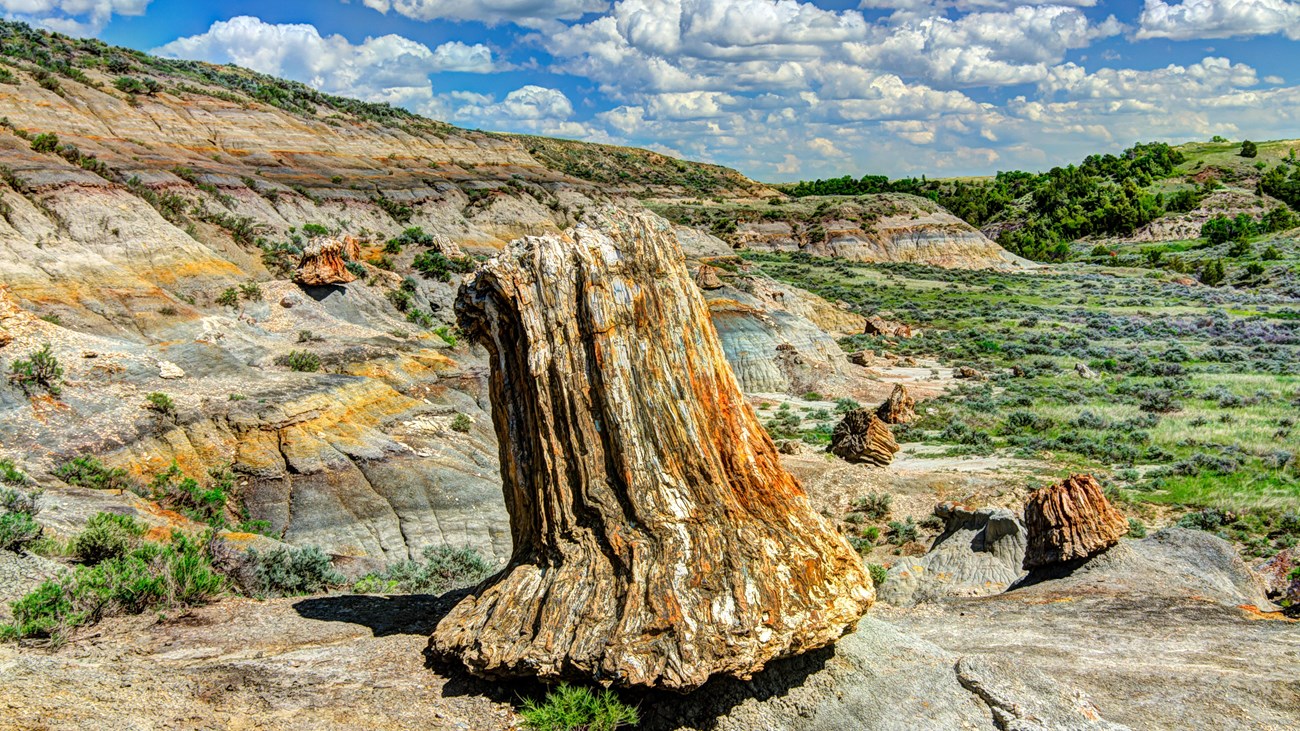 Theodore Roosevelt National Park is home to the third highest concentration of petrified wood in the United States. These geological wonders give context to the park's past, allowing hikers to travel back to a time when, instead of buttes and prairies, the landscape was dominated by massive trees and shallow swamps. 

The trail travels up out of the badlands onto a wide prairie where it splits, each section then dropping down into a valley containing the petrified stumps. Both sections of petrified wood are approximately 1.5 miles from the parking area. 

Hikers can continue past the petrified wood to complete the 10.4 mile loop or access other trails in the park. Additional water and supplies are recommended for this longer hike. 

It is illegal to remove any resource from a national park. Leave any fossil, stone, or other object where you find it so that other visitors can enjoy it as well. 
Hiking just to the petrified forest (either section) is a 3-mile out-and-back hike. The entire loop is 10.4 miles. 
The hike to the petrified forest is on an unpaved trail which may occasionally have uneven ground or loose stone. Trail surfaces are not maintained. Proper footwear is recommended. There is little to no shade available on this trail; hikers should dress for the weather and wear sun protection. Hikers are advised to carry at least one liter of water per person, per hour, especially in the hot summer months. During the summer, ticks, flies, and other biting insects may be present along the trail. 

It is illegal to remove any resource from the park. Leave any fossils, rocks, or other objects where you find them for other visitors to enjoy.
Entrance fees may apply, see Fees & Passes information. 
Location
Petrified Forest Trail
The petrified forest trailhead is located on the western boundary of the park. The drive from Medora to the trailhead is approximately 30 minutes on gravel roads. There are small signs indicating turns, but turn-by-turn instructions are below:
Take I-94 westbound to exit 23. At the end of the exit ramp, turn right on Forest Service Road 730. Travel 2.7 miles.
Turn left to stay on 730. Travel 2.5 miles. You will pass a "Private Road" sign; you can continue.
Turn right on Road 730-2. In 150 yards, take the first left.
At the next "Y", veer left, continue 0.6 miles to the parking area.
The trail starts at the lift gate beyond the trailhead sign.
Weather conditions may cause unstable or slippery conditions. Check with a ranger for current conditions. 
Accessibility Information
The Petrified Forest Trail is a remote, unpaved backcountry trail which includes steep slopes, uneven footing, and potentially unstable ground. Proper footwear is recommended. Service animals are allowed, but must be on a leash no longer than 6 feet. 
Last updated: February 7, 2021