Thing to Do
Middle Emerald Pools Trail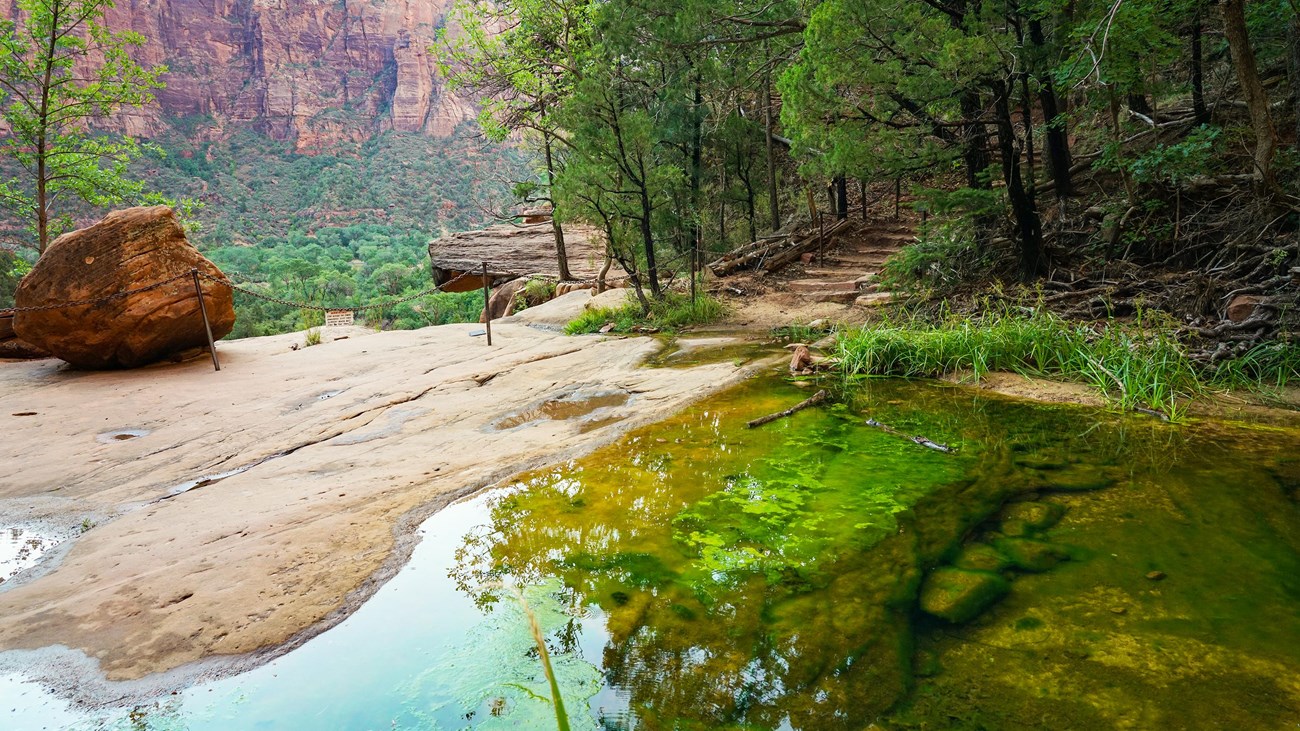 Middle Emerald Pools Trail is a moderate, 2.2 mi (3.5 km) hike along an unpaved sandstone ledge above the Lower Emerald Pool Trail. The initial ascent is quite steep, bringing you to expansive views of main Zion Canyon below. Further along the trail, tucked into the red sandstone of the mountain, enjoy the shade and flora of pinyon-juniper woodlands. The trail then descends to emerald-colored pools of water above the small ephemeral waterfalls of Lower Emerald Pool Trail. The pools are fragile and an essential water source for wildlife. Do not go into the water.

Connects to the other Emerald Pools trails and the Kayenta Trail.

Avoid cliff edges. Swimming is not permitted. Restrooms and water filling stations are available at the Zion Lodge.
Middle Emerald Pools is 2.2 miles (3.5 km) roundtrip (out-and-back). It may be combined with other Emerald Pools trails and the Kayenta trail for a longer hike.
Park entrance fees apply.
Location
Emerald Pools Trailhead
Emerald Pools Trailhead is across from the Zion Lodge (shuttle stop #5). From the shuttle stop, follow the sidewalk across the Lodge Lawn to the crosswalk. Cross the street and continue across the bridge. Follow the trail on the left to begin hiking Middle Emerald Pools.
Accessibility Information
Trail is not paved. The rocky, uneven terrain climbs 150 ft (46 m) of elevation with moderate drop-offs and cliff edges. Wooden stairs at the end provide access to the pools. The beginning of the trail has a steep grade.
Last updated: January 31, 2023