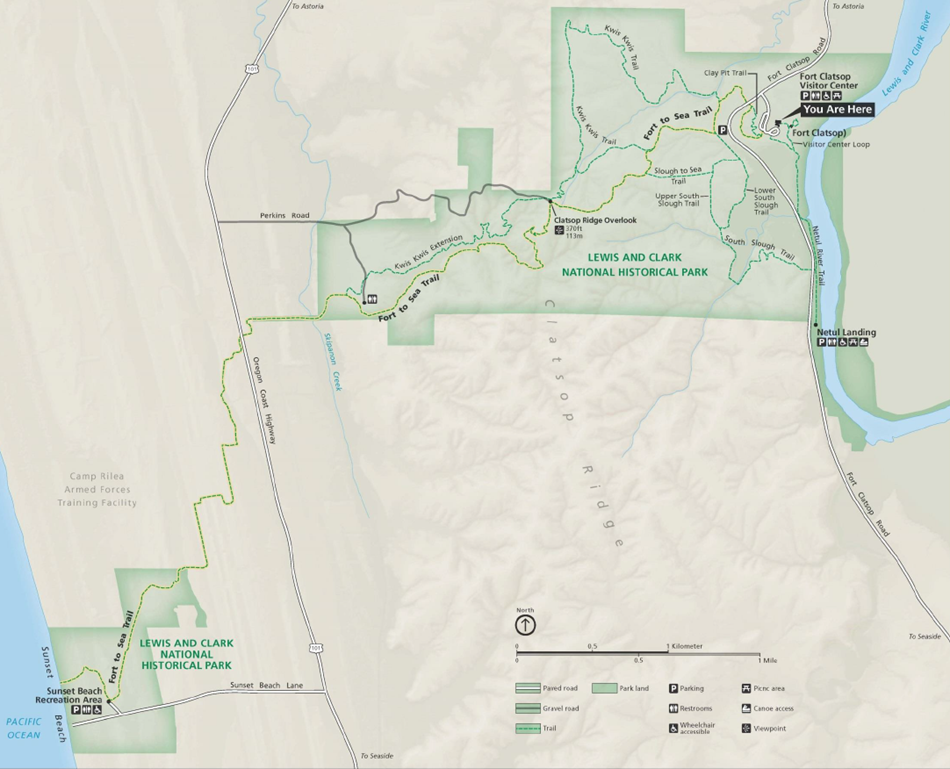 While the Corps forged its way through deep woods, muddy bogs and windswept beaches, a 6.5-mile trail now runs much of the same forest, fields and dunes that the Corps traveled. The Fort To Sea Trail wends its way through the woods south of Fort Clatsop to Sunset Beach on the Pacific Ocean, covering land that once was home to the Clatsop Indians who helped the Corps.
The Fort to Sea trail makes a great day hike if you have prepared well. There are sections of the trail that are steep, going both uphill and downhill, sections of the trail that can be slick and muddy, and areas without much vegetative cover. Know before you go what the weather will be like, where you are going, and how you will get back to your car (remember it is 6.5 miles
ONE WAY
). There is a bathroom at the trail head, at sunset beach, and about halfway through, but there are no water fountains, so make sure you bring plenty of water and snacks. Please also plan on packing out anything you pack in as there are not trash cans along the way.
Check out our safety page for more tips to prepare for your hike
, and stop in at the visitor center before you go to grab a trail map and check in with the ranger regarding any trail closures or dangerous conditions.