Thing to Do
Experience Victory Woods

These 22 acres mark the final encampment site for the British Army under General Burgoyne prior to their October 17, 1777 surrender to American forces. The trail is self-guided and offers a raised, accessible 1/2-mile pathway with interpretive signs. Check our operating hours to see when Victory Woods is open. 
Duration depends on the visitor - we encourage you to spend as much time as you like, grounds are open sunrise to sunset.
Activity
Self-Guided Tours - Walking
From the Saratoga Monument, the trail through Victory Woods is approximately 1 mile in length. Various wayside exhibits tell the 1777 story as you explore the woods.
Pets Allowed
Yes with Restrictions
Pets are allowed as long as they are leashed. Visitors are required to clean up after their pets and waste bags are provided on the premises.
Entrance fees may apply, see Fees & Passes information.
Located in the Village of Victory, Victory Woods is accessible from Saratoga Monument, which is located on Burgoyne Rd. (County Route 338). Handicap accessible parking for Victory Woods is located at the end of Monument Dr.
Victory Woods is part of the "Old Saratoga" unit of Saratoga National Historical Park. It is open daily, sunrise to sunset (trails are not maintained).
Trails are not maintained or cleared winter.
Accessibility Information
Restrooms 
There are two partially accessible outdoor restrooms are available at the Saratoga Monument parking area - the stalls are wide enough, but doors into the restrooms are not automatic. Restrooms are only available during the summer season when the monument is open to the public. There are no restrooms available from the Monument Drive access to Victory Woods Trail.
Parking
There are two spaces available at Saratoga Monument parking area. Handicap accessible parking for Victory Woods is located at the end of Monument Drive - two spaces are available here as well.
Walkway from Saratoga Monument
A winding, paved path makes its way from the parking area up a hill to the base of the Saratoga Monument where the Victory Woods Trailhead is located. From the Monument, the path to Victory Woods cuts through a local cemetery whose grounds consist of mowed grass and narrow crushed stone areas where vehicles are permitted to drive.
Walkway from Monument Drive Access Point
The path is made of plastic lumber and poly-coated pea gravel and is accessible to wheelchairs and strollers.
 
The Victory Woods Trail received the National Park Service 2010 Architectural Design Project Achievement Award.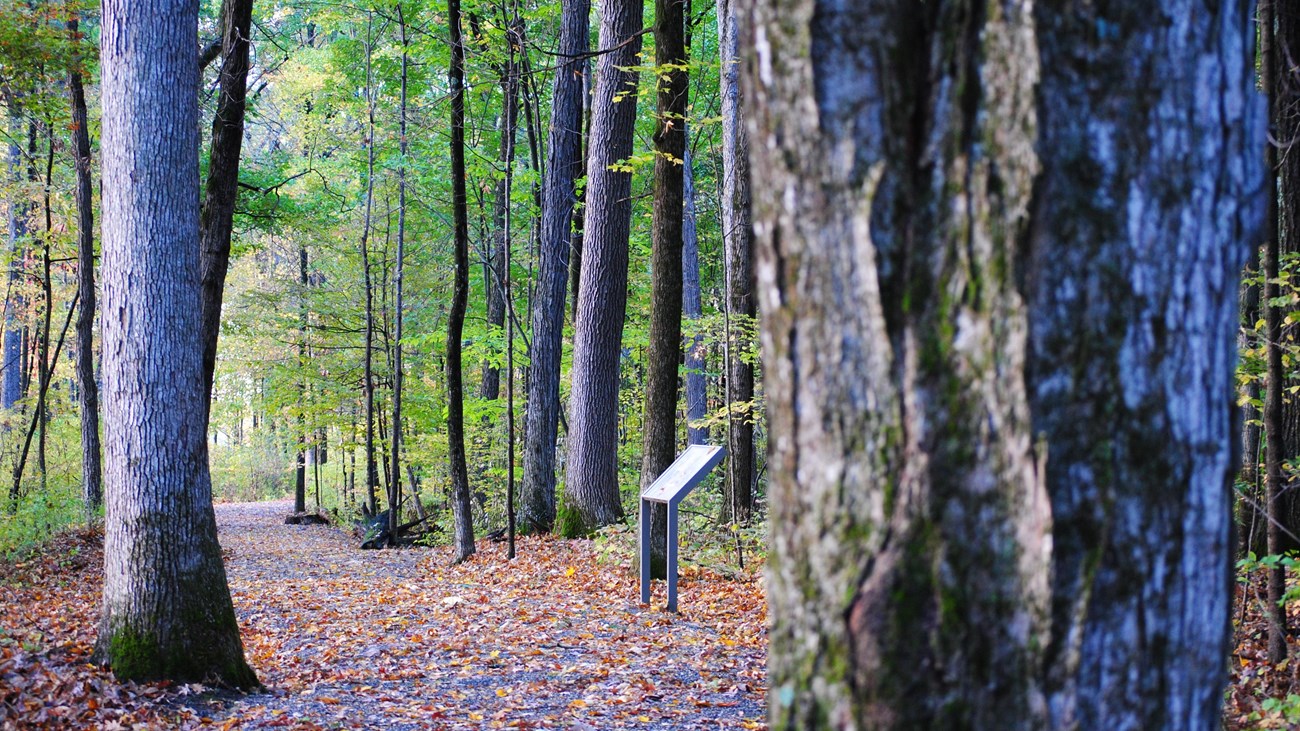 Victory Woods
Explore a trail and wooden boardwalk through the site that marks the final encampment site of the British before they surrendered.
Last updated: September 15, 2023