Thing to Do
Earn a BARK Ranger Dog Tag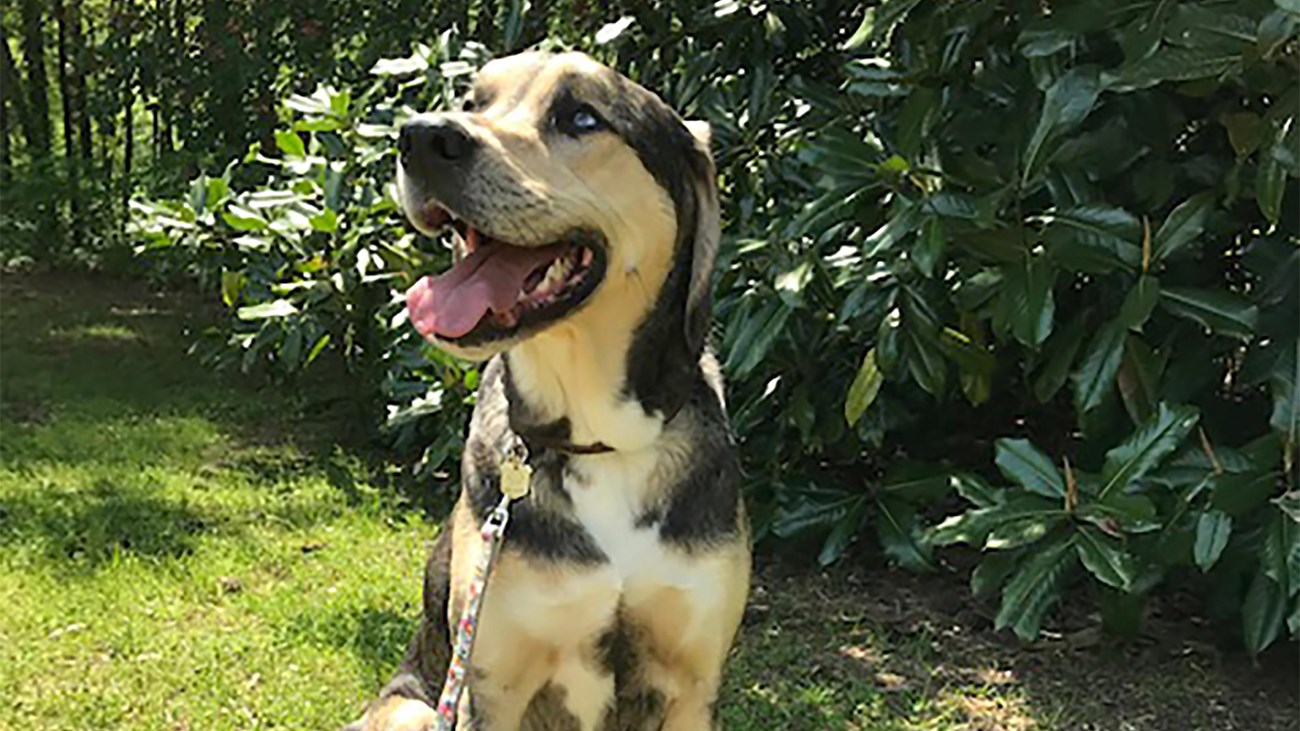 HEY DOGS!!! Do you want to proudly wear the Natchez Trace Parkway BARK Ranger dog tag? We made it easy for a human to help you get one, and you both can have fun while earning it. 
What does the human need to do for you?
1) Learn and follow the rules
B
is for bag your poop (we hand out poop bags at visitor centers)
A
is for always keep you on a leash (6' or shorter, please)
R
is to help you respect wildlife (no barking, digging, sniffing, or chasing)
K
is to know where you can go (except for buildings, on a leash, you can go anywhere your human can, including trails.)
2) Pick up a BARK Ranger booklet at a visitor center (or e-mail us for a digital copy) and do the activities in the booklet and sign it for you. We will give you a couple of poop bags if you need them.
 Request Natchez Trace Parkway BARK Ranger booklet through email
3) Show the ranger at the visitor center that you have completed your booklet, and receive your official BARK Ranger dog tag!
If you have a cat who thinks he is a dog and walks the trail with you, we don't want him feline sad. We pawsitively will let your trail-hiking kitty earn a BARK Ranger tag. 
Depending on which trail chosen by the dog or human, the walk can be short or long. 
Dogs can earn a BARK Ranger tag if their human will help. Humans finish a few activities in a booklet that can be picked up at a visitor center. The dog must be taken for a short walk on a trail to earn the tag. All dog poop MUST be bagged! You can pick up a couple of poop bags at the visitor centers. 
Anyone who can handle a dog on a leash, or accompanies someone who handles the dog is welcome on our trails. We have trails that are suitable for a wide variety of people and dogs. Dogs who earn badges are usually between 14 weeks and 18 years, but if puppies are carried, they can earn one too! Note: Dogs should be vaccinated prior to walking the trails. 
The program is all about pets. And to meet diversity and inclusion mandates, we will also allow cats to earn BARK Ranger tags, but they MUST be on a leash. 
Entrance fees may apply, see Fees & Passes information.
If you are going on a longer trail, always carry water for your dog. 
Summer: Take water even on short trails and never leave your dog in a closed vehicle. Use pet-safe insect repellent on your dog (get some for the humans, too)
Spring and Fall: Warm days will require water. Insect repellent will be needed on warm days.
Winter: Cool winter days are cool days to do hikes and walks!
 
Accessibility Information
Service dogs can be BARK Rangers, too. Of course service dogs are so special, they are welcome in buildings. If they are with a human with limited mobility, we will be glad to recommend a good trail. 

Everyone with a dog is welcome to help their dog earn a badge and if assistance is needed, we will be glad to help in any way we can. (If you have a cat, you may be on your own.)
Last updated: March 18, 2022