Thing to Do
Drive the Scotts Bluff Summit Road

Experience Scotts Bluff and wonderful views of the surrounding countryside on this 1.6 mile scenic drive.
Vehicles longer than 25 feet (7.6 meters) and/or higher than 11 feet 7 inches (3.53 meters) are prohibited.
All trailers are prohibited.
The Summit Road will be CLOSED in the event of inclement weather or rockfall. For the most up to date road status, call the Scotts Bluff National Monument visitor center at (308) 436-9700. 
Leashed pets are permitted on the summit trails. Please clean up after your pet.
Entrance fees may apply, see Fees & Passes information.
The Summit Road is open year-round. However, it may close due to rockfall or adverse weather conditions. 
Summit Road hours vary by season. See below for hours.
Accessibility Information
Two accessible parking spaces are located at the summit parking area. From the parking lot, paved trails lead to two summit overlooks.
 
The South Overlook is approximately 300 yards (274 meters) from the parking lot. Access to the North Overlook is by a 16% uphill path of about 60 yards (55 meters). It will take you to a level looping trail system which is about 150 yards (137 meters) long. Several overlooks from the summit will reveal the North Platte Valley. The remaining 100 yards (91 meters) contains a steep downhill grade of 19% with dropoffs on either side.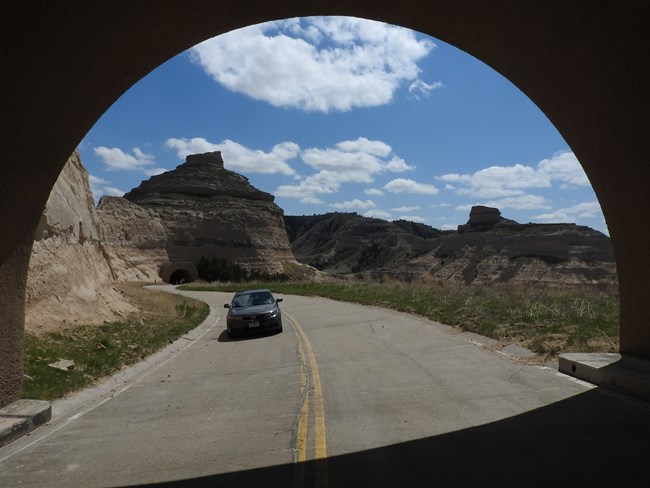 Built in the 1930's, the Summit Road is the oldest concrete road in the State of Nebraska and gives visitors a chance to reach the top of the bluff by automobile. This 1.6 mile drive features scenic views and the only three vehicular tunnels in the state. It is narrow with sharp curves.
Vehicles longer than 25 feet and/or higher than 11 feet 7 inches are prohibited. All trailers are prohibited.
Hiking or bicycling on the Summit Road is only allowed during daylight hours when closed to motorized vehicular traffic.
Tags
Last updated: September 11, 2023