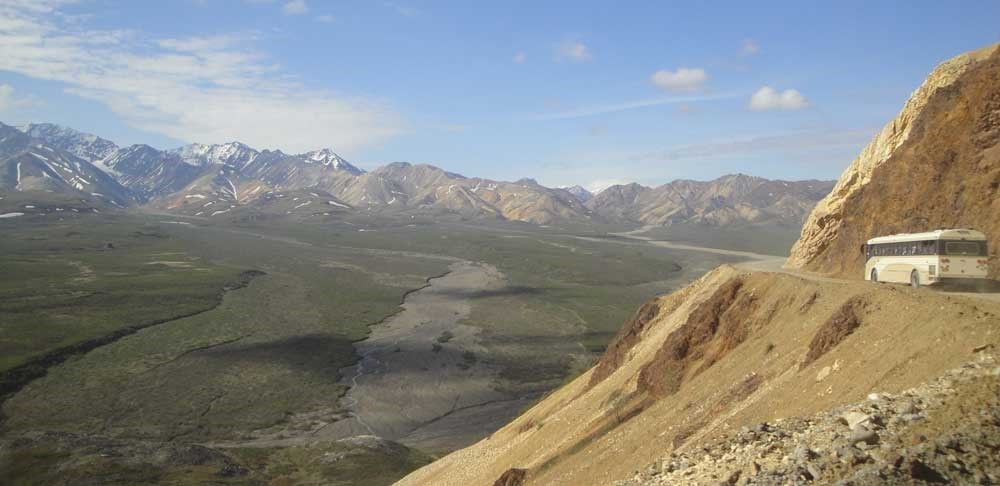 Denali is a unique park in many ways.
There is just one road in the park, and traffic on most of it is regulated to prevent congestion, preserve a wilderness experience for sight-seers and reduce stress on wildlife. Travel on the road is mainly limited to a variety of bus trips.
Tour buses are narrated.
Tundra Wilderness and Kantishna Experience Tours include a box lunch and hot beverage.
Restroom breaks occur about every 90 minutes
Wildlife viewing stops will occur any time animals can be seen.
Passengers stay with their bus for the duration of the trip. Some tours offer opportunities for short walks, while others will only disembark passengers for bathroom breaks.
Comparison of Tour Bus Choices
Tour Name
Duration (round-trip)
Destination
Description
Natural History Tour
4.5-5 hours
Mile 27

Focusing on the rich natural and cultural history of the park, this 4 ½ to 5 hour tour travels to Teklanika River (Mile 27).

Tundra Wilderness Tour
7-8 hours
Mile 53, Toklat River

Variations of this tour have been in existence since 1923, with the first concessioner offering bus trips as far as the road extended at that time.

Today, it is a 7-8 hour excursion into the park with a certified driver-naturalist. Going to at least Toklat River (mile 53), this tour provides in-depth information about the history of the park, while maintaining a keen eye in search of wildlife and photography opportunities.

Kantishna Experience Tour
12 hours
Mile 92, Kantishna
Follow the trail of pioneer Fannie Quigley to the old gold town of Kantishna on this all-day adventure to the end of the Park Road. Your driver is a Certified Interpretive Guide and a National Park Service interpretive ranger joins you roughly halfway through your journey on this immersive experience. You will spend time in Kantishna learning about its interesting history and role in Interior Alaska.
Notes:
Trip durations account for restroom stops, wildlife viewing, and any off-bus programs that occur.
Destinations indicate how many miles into the park your tour travels before turning around (i.e., the Natural History Tour travels 17 miles, to a place called Primrose Ridge, before returning to the park entrance).