THING TO DO
Berry Picking in Denali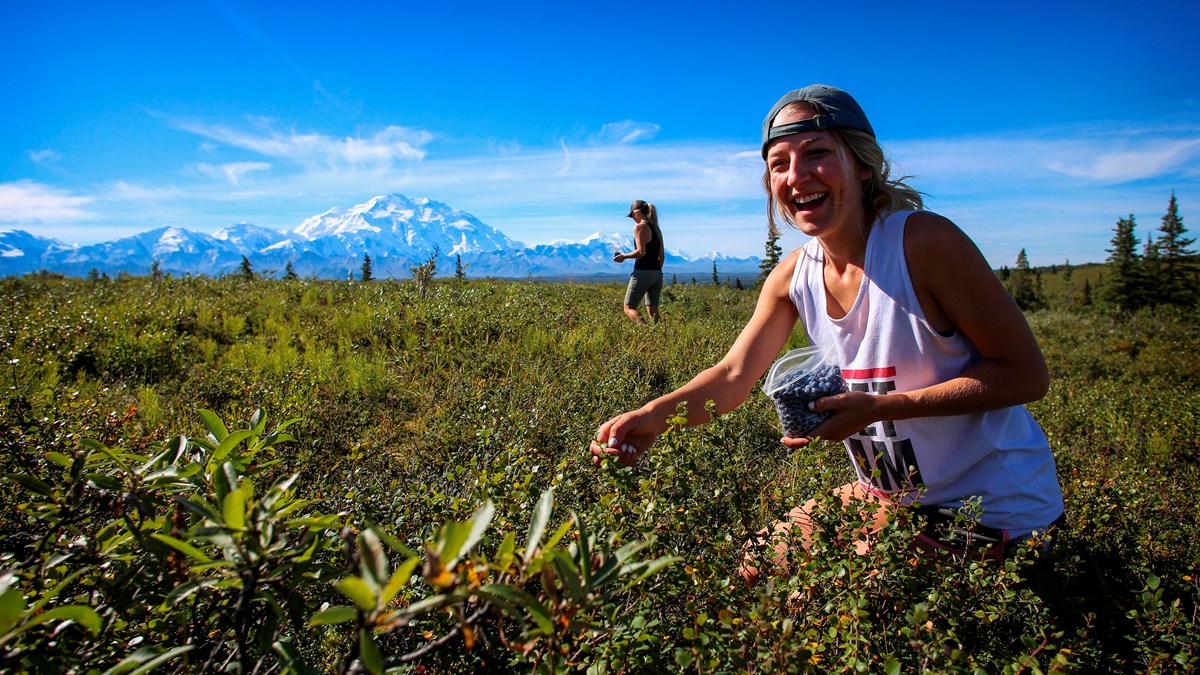 Alaska is well known for it's amazing and abundant berries in August and September—just ask any of the grizzly bears in Denali! A family friendly activity would be to strike off into the tundra and search for berries. Bring your bucket (or empty water bottle) to fill, or simply snack on the go.
A few things to keep in mind:
Denali is bear and moose country! Always be aware of your surroundings, and make noise as you are out to not startle wildlife. Review our guidance for wildlife safety before arrival.
Anyone may pick berries for personal consumption within Denali National Park and Preserve. However, harvesting berries for commercial use of any kind is not permitted.
Denali only has one species of poisonous berry, the baneberry. Avoid any completely white berries, or if the berry is red with a black spot on it. Baneberries have been found near Eielson Visitor Center. If you're unsure, show the berries to a park ranger or bus driver, or consult a guidebook on wild plants in Alaska.
What to Pick
 Denali's most famous edible wild berries, the blueberry and lingonberry, can be locally abundant in late summer!
Blueberries grow on low bushes (under knee height) in typically open, shrubby tundra. Blueberries ripen earlier than many other types of berries, and you may find ripe ones by early to mid August. They'll continue ripening into September. The Mountain Vista and Savage River Areas of the park are great places to look for such plants. Hiking off trail is generally permitted unless you see signs indicating a temporary wildlife closure, so you can set off into the tundra anywhere that looks likely, or talk to a ranger for tips on areas that others have found berries recently. 
Lingonberries (also called lowbush cranberries) are typically in dense spruce forests and grow as a ground mat, only a few inches off the ground. Many of the trails around the Denali Visitor Center are in dense spruce forests and are likely areas to keep an eye out for lingonberries, although these are also the areas picked over the most! Lingonberries typically do not ripen til September, and many people find them at their tastiest after a few frosts have helped increase their sugar content. 
Both berries are typically about fingernail sized or smaller, so be ready to collect quite a few if you plan to use them in a pie or other recipe rather than as a snack. 
Activity
Gathering and Foraging
Pets in Denali are allowed on leash (6' or less in length) along the park road, in campgrounds, and on the Roadside Trail, which stretches from Denali Headquarters to Riley Creek Campground.

They are not permitted along any other trails or in the backcountry to preserve wilderness and potential wildlife viewing experiences.
There is no fee to pick berries. Note, though, that Denali has a per person park entry fee for adults that can be paid at the Denali Visitor Center, which is valid for one week.
Location
Berry Picking Areas
For blueberries, try hiking off trail from a pullout along the Denali Park Road anywhere between Mile 7 to Mile 12 (around Mountain Vista).

Lowbush cranberries are typically in dense spruce forests, for example around the Denali Visitor Center, Murie Science and Learning Center, and Bus Depot. The best opportunities are by taking a bus ride further into the park and day hiking. Ask your bus driver to let you out in an area with good berry picking potential. 

If you are traveling to or camping at Wonder Lake Campground, blueberries in late summer are typically very abundant.
Some lingonberries (lowbush cranberries) may be found in spring (April-June) in Denali, having overwintered from the previous year. These are tart and edible. Otherwise the berry season is late July until late September.

Blueberries are the earlier berry, and once they ripen to be blue all the way around (with no green coloration) they are edible. Lingonberries are best eaten after Denali has gotten at least one frost event—the berries will be crimson red. They can be eaten earlier (when still bright firetruck red) but will be even more tart.
Accessibility Information
Denali's berries all grow on low shrubs that are anywhere from only a few inches tall, up to 1 foot off the ground. Most berry picking requires kneeling, bending, stooping, squatting or sitting on the ground.

While trails may be utilized to reach berry picking areas, the most productive areas will be away from heavily traveled human or animal corridors, and travel can be more physically challenging in off-trail areas. Service animals are allowed in the backcountry and along all trails. 
Last updated: June 29, 2021