Thing to Do
Hike the Tree Molds Trail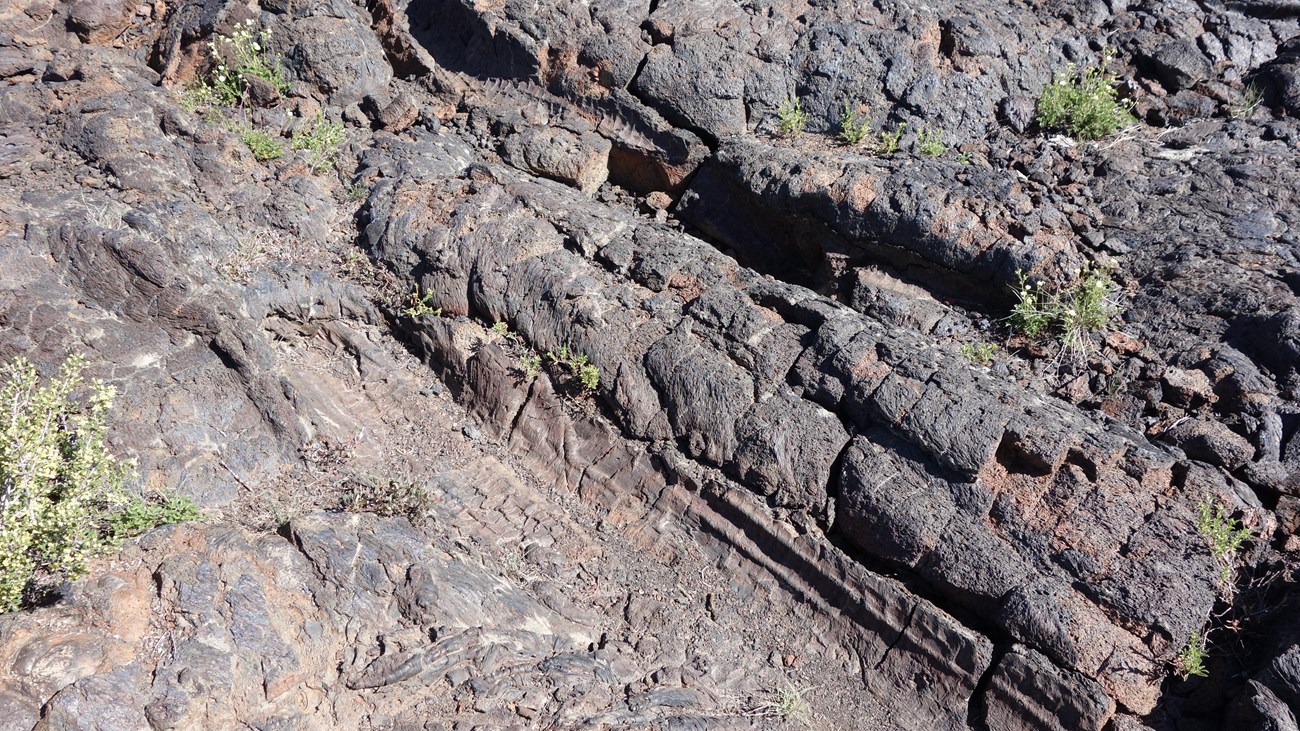 Length: 2 mi (3.2 km) round-trip
Elevation gain: 108 ft (33 m)

This trail winds through shrubs and stands of limber pine within the Craters of the Moon Wilderness before reaching the edge of the Blue Dragon Flow. While still molten, this lava flow knocked down and ignited trees. The charred tree trunks left impressions in the lava rock. In other places, the trees remained standing as the lava encased them, leaving vertical molds in the cooling lava.

The tree molds can be seen at the end of the trail, one mile from the trailhead.
Pets are not allowed on any trails or in caves. Lava rocks are rough and jagged. The surface of the dark rocks can reach 150°F (65°C) or more in the summer and quickly burns paws. Pets should never be left unattended in vehicles or the campground. Parking areas do not have shade and air temperatures can exceed 90°F (32°C) in the middle of summer.
Entrance fees may apply, see Fees & Passes information.
Location
Tree Molds Trailhead
From the visitor center, follow the Loop Road for about 3.5 miles. Turn right at the Tree Molds sign, and follow the road for another mile to the Tree Molds parking area. This trailhead serves the Tree Molds Trail, Broken Top Loop, and the Wilderness Trail.

RV parking, vault toilets, and a bicycle rack are available.
Season
Spring, Summer, Fall
Accessibility Information
TRAIL LENGTH: 2 miles (3.2 km) round-trip to 1st group of tree molds
CUMULATIVE ELEVATION CHANGE: gain 108 ft (33 m), loss 147 ft (45 m)  

TYPICAL GRADE: 3° (5.1%)
20% of trail is from 4.5° to 14° (8% to 25%)
Standard wheelchair ramp is 4.5° (8%)

TYPICAL CROSS SLOPE: 2.5° (4%)
36% of trail is from 4.5° to 10° (8% to 18%)

TYPICAL TREAD WIDTH: 44 in (113 cm)
MINIMUM TREAD WIDTH: 17 in (43 cm)

TRAIL SURFACE: Asphalt and gravel-like cinders
10% of trail is PAVED, 90% of trail is cinder
OBSTRUCTIONS: ROCKS to 5 inches

WARNING: Trail measurements end after one mile at the marked tree molds. After that point, expect rocks, ruts, and steps of varying sizes. Trail conditions may have changed since this trail was assessed. Temporary obstructions may include downed trees and rock fall. Maximum grades and cross slopes may vary by 10% or more.
Last updated: September 23, 2023