Thing to Do
Be a Junior Ranger at San Francisco Maritime National Historical Park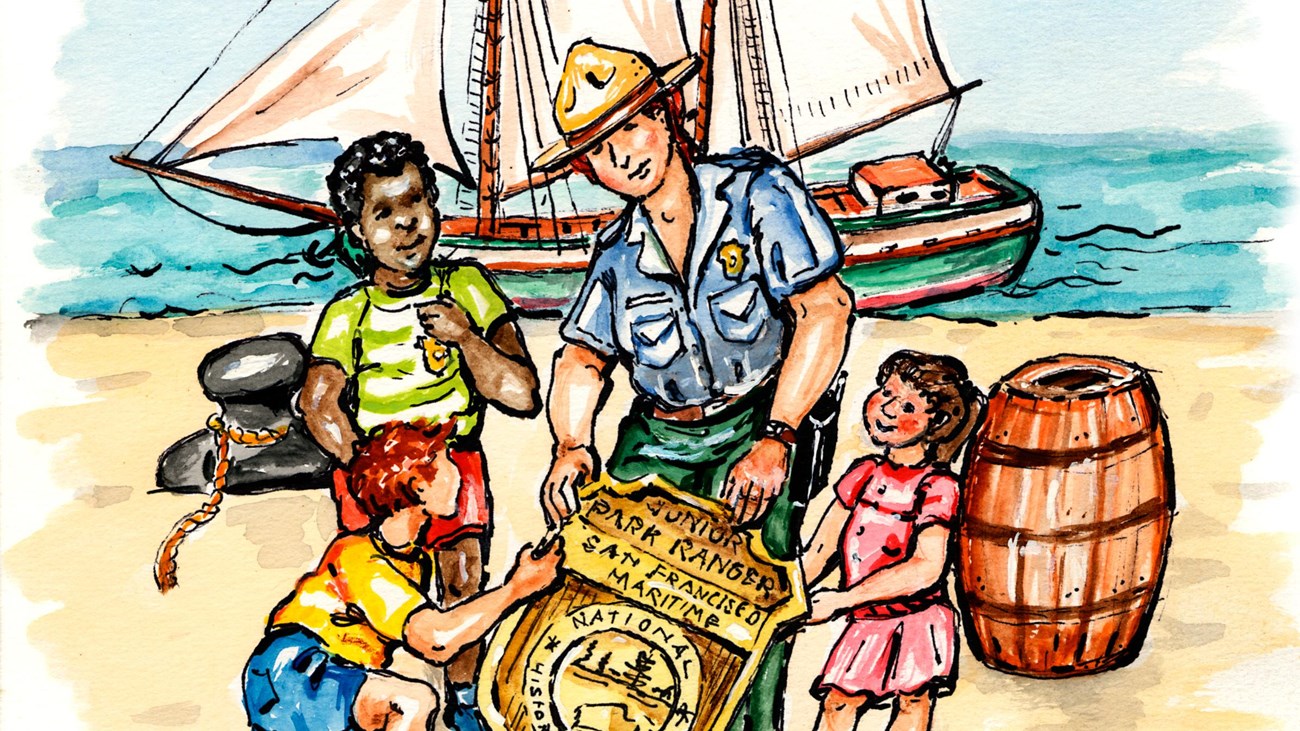 While in the park, younger visitors can pick up a free Junior Ranger Program activity booklet at three contact stations: the Visitor Center, Maritime Museum, or the Ticket Booth on Hyde Street Pier.

There is an activity booklet for kids ages 5-8 and one for kids ages 9-12. It's a fun way for kids, and those big kids along with them, to learn about the park. The booklets are also available in Spanish (ages 5-8 and 9-12).

Once the activities are completed, find a park ranger who will review the booklet with the new Junior Ranger and present them with a Junior Ranger badge.

If you would like to download the Junior Ranger Activity Booklet before visiting San Francisco Maritime NHP, the booklets for ages 5-8 and ages 9-12 in English are available for download in the links below.

Junior Ranger Activity Booklet-English Ages 5-8

Junior Ranger Acitvity Booklet-English Ages 9-12

If you are unable to make it to the park, completed booklets may be emailed to San Francisco Maritime NHP or mailed to the park at:

San Francisco Maritime National Historical Park
Junior Ranger Program
2 Marina Blvd. 
Bldg. E
San Francisco, CA 94123
Activity
Junior Ranger Program
While in the park, younger visitors can pick up a free Junior Ranger Program activity booklet at three contact stations: the Visitor Center, Maritime Museum, or the Ticket Booth on Hyde Street Pier.
There is an activity booklet for kids ages 5-8 and one for kids ages 9-12. It's a fun way for kids, and those big kids along with them, to learn about the park. The booklets are also available in Spanish (ages 5-8 and 9-12).
Once the activities are completed, find a park ranger who will review the booklet with the new Junior Ranger and present them with a Junior Ranger badge.
Entrance fees may apply, see Fees & Passes information.
Location
San Francisco Maritime National Historical Park
Accessibility Information
The National Park Service (NPS) is committed to ensuring NPS facilities, programs, services, and meaningful work opportunities are accessible and usable by all individuals. At San Francisco Maritime National Historical Park, we are working diligently to make certain that our Park's features meet the needs of guests.
A few highlights:
The park brochure is available in a variety of formats including braille, audio description, and text-only.
Hyde Street Pier, the Visitor Center, and the Research Center are wheelchair accessible.
A limited number of accessible parking spaces are located at the entrance to Hyde Street Pier.
A computer kiosk, located in the Visitor Center, features an interactive tour of the Park and ships.
The Guide By Cell audio tour, located on Hyde Street Pier, gives you the option to listen, at your own pace, to a variety of two to three minute programs narrated by park rangers. You may also access this program at anytime by clicking here and following the instructions listed in the link.
For more details or to share feedback, please call the Accessibility Coordinator, Morgan Smith at 415-859-6797 or send an email to morgan_smith@nps.gov.

Additional Information

Click here to view the full accessibility guide (PDF).
Last updated: April 8, 2021