Cell Phone Audio Tours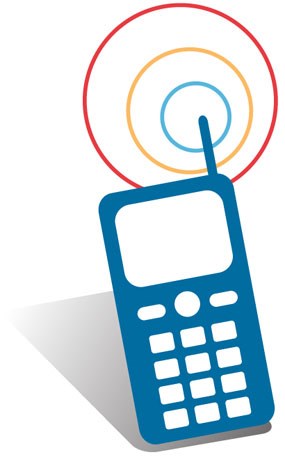 Use your phone as a portal to maritime history!
Listen to park rangers give two to three minute talks about the fantastic collection of historic ships, danger and adventure on the high seas, ship preservation, art and architecture, family life at sea, sailors and music, and much more.
Dial 415-294-6754 and enter the tour number and then # (pound sign). Tour numbers are listed below.
Stay connected during the entire tour, or hang up and call back. Your cell phone carrier will charge their usual rate for the minutes used in the 415 area code.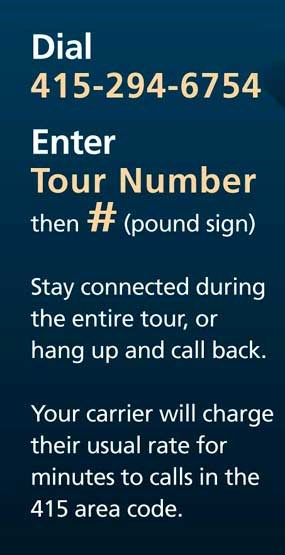 The Maritime Voices cell phone audio tour is located along Hyde Street Pier. There are eight stops along the pier. At each stop you can listen to a variety of two to three minute programs narrated by park rangers. Here are the program names and tour numbers.
Forepier
#1 - Orientation: A Portal into Maritime History
#2 - History Afloat
#3 - Houseboating: The Lewis Ark
Aquatic Park
#4 - Swimmers in the Bay
#5 - Art & Architecture Aquatic Park: Form/Function
#6 - Creation of a National Park
#7 - Global Climate Change in the National Parks
#8 - Park Overview: From Sail to Steam - Bridging Oceans and Cultures
Eureka
#9 - The Only Way Across the Bay
#10 - The Passenger Experience: Culture of Its Own
#11 - Steam Juggernaut
Thayer
#12 - A Story of Survival
#13 - Born Again: Restoration of the C.A.Thayer
#14 - Good Wood: Preserving Ships and Forests
#15 - Sail, Steam, and Self Reliance
Eppleton Hall
#16 - Survival of an Underdog
#17 - On the Inside
Balclutha
#18 - A Memorial to the Grand Age of Sail
#19 - Danger and Adventure on the High Seas
#20 - Charting a Musical Course Through Maritime History
#21 - Families At Sea
#22 - A World of Interconnection
Hercules
#23 - The Last of Her Kind
#24 - The Good and the Bad: Life Aboard Hercules
#25 - Power and Danger
Alma and Small Craft
#26 - A Local Lifeline
#27 - More Alive than Ever!
#28 - Significance of Small Craft
To leave a comment press 0 and #.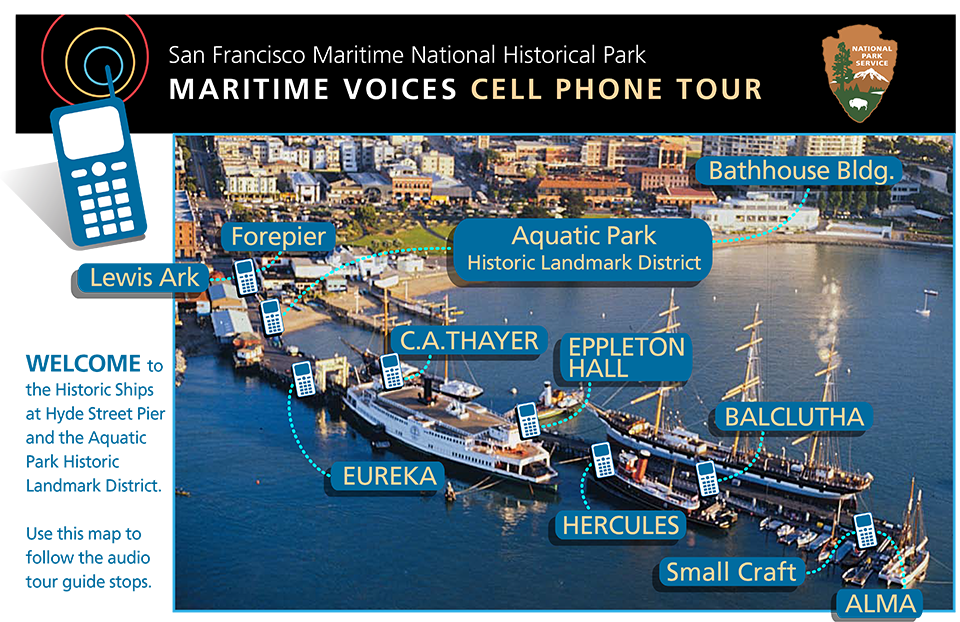 Last updated: December 1, 2017