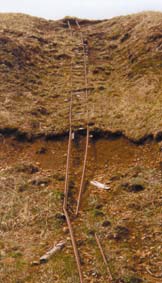 Mile 6.3 - Second Priest Rock
Named for its resemblance to Priest Rock, some 4 miles north, Second Priest Rock was a familiar landmark for the men of Garrison No. 6, as well as those stationed at Fort Schwatka on Mount Ballyhoo.
Mile 6.5 - Tramway Remains
A track of rusted steel rails on the side of Mount Coxcomb is all that remains of a wood and steel tramway that once transported supplies up the mountain to a searchlight station overlooking Iliuliuk Bay. Opinions differed on the usefulness of the 800-million-candlepower searchlight. One former member of Battery A recalled that when the light was shined vertically, it became a homing device for navy pilots trying to land in heavy fog. Another believed that the searchlight was of little use in the thick Aleutian fog, and it "more likely would have guided the enemy to us" (Jodie Jones and John Proffitt, interviews in The Williwaw War).