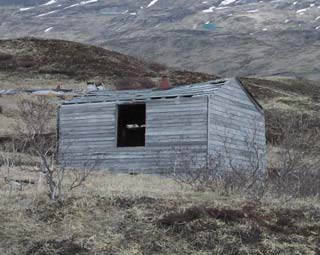 Sixty years later, only one intact cabana can be seen from the road in Upper Unalaska Valley. So me buildings were moved into town for housing after the war, and others salvaged for lumber. Many were emoved during an environmental cleanup. The rest have fallen due to years of rain, wind, and snow load. Although the buildings in Upper Unalaska Valley are no longer standing, many of the foundations remain; a drive through the valley provides a sense of what it might have been like to live here during World War II.
Mile 5.3 - Water System Remnants
On the creek bank at the washout are traces of the original World War II water system. The rectangular concrete structure on the left was the chlorination station. Protruding from the bank to the right of the station are wood-stave water pipes wrapped with wire.
Mile 5.3 - Munitions Magazines (1942-1943)
When you reach the washout at the end of the road, look to your left across the river. The two black tunnel-like openings in the hillside are the entrances to munitions magazines known as elephant steel shelters or Armco huts. These structures were built of panels of heavy-gauge corrugated steel bolted together and covered with soil. Grass and willow soon grew over the soil, making the shelters very difficult to detect.