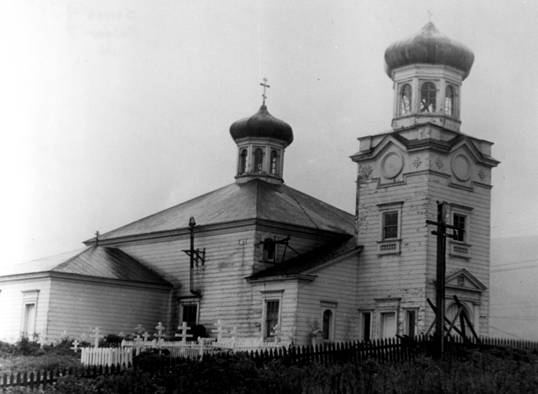 Mile 3.2 - Church of the Holy Ascension (1898) National Historic Landmark
The site on which the present Church of the Holy Ascension was constructed in 1898 has been the site of the Russian Orthodox Church in Unalaska for almost 200 years and the spiritual center of the Unalaska community. Parishioners regularly maintain and repair the building. After the Unangax̂ were evacuated from Unalaska in August 1942, the military used the Church primarily as a warehouse until 1945, and the building received no maintenance for three years (A Sure Foundation).
When the Unangax̂ returned home in April 1945, they found their church in severe disrepair. Holes in the roof and broken windows had allowed "wind and rain [to penetrate] behind loose shingles and siding, causing a permanent dampness to the building" (Making It Right, Vol. I). The parishioners repaired their church as best they could, but could not afford the extensive structural restoration required, and the condition of the building continued to deteriorate. The Church of the Holy Ascension was designated a National Historic Landmark in 1970. It was restored in 1996 at a cost of 1.4 million dollars, with funding from the National Trust for Historic Preservation, the Aleutian Pribilof Islands Association, and the Russian Orthodox Church.
Mile 3.2 - Bishop's House (1883)
The Bishop's House, with its distinctive Italianate styling and Victorian trim, was designed and constructed in San Francisco, shipped piece by piece to Unalaska, and then reassembled at its present site. The 30-foot-square elementary school that was once attached to this building burned in 1960.