THING TO DO
Airport Beach Road (North)

Turn right out of
the Visitor Center
parking lot onto Airport Beach Road.  (To visit the Sitka Spruce Plantation National Historic Landmark, take the first left off Airport Beach Road onto Biorka Drive.  Sitka Spruce Park is approximately one block uphill on the left.)
Sixty years after the war, only a few structures from Fort Mears remain along Airport Beach Road.  In 1942, hundreds of buildings?mess halls, barracks, hospital wards, warehouses, and mechanic shops?surrounded Margaret Bay and extended to the shore of Unalaska Bay.  
Mile 0.7 - Bombing of Fort Mears (1942) 
Early on the morning of June 3, 1942, where the Grand Aleutian Hotel now stands and across the street on the shore of Unalaska Bay, Japanese aircraft dropped 16 bombs on Fort Mears. The commanding officer had known for several days that an enemy attack was expected, and had ordered his troops to evacuate the garrison and take cover in trenches and foxholes on the surrounding hills.  Tragically, 50 soldiers who had arrived in Dutch Harbor late on the night of June 2 were not informed of the evacuation, and the following morning the bombing killed 25 of these men and injured the others.
Entrance fees may apply, see Fees & Passes information.
Accessibility Information
This activity is accessible for all visitors with vehicle access. This is intended as a driving guide. Participants can chose their own level of participation and activity.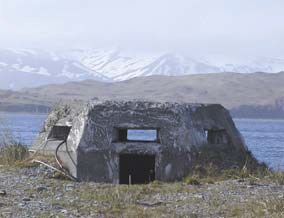 Mile 0.7 - Pill Boxes (1941-1942)
These hexagonal reinforced-concrete structures were named for their resemblance to a style of woman's hat with a flat crown and straight sides. Pill boxes provided emergency shelter in case of enemy bombing and were also used as machine gun bunkers. W.J. McKinistry, who was stationed at Dutch Harbor during World War II, remembered that "they told us [on June 4, 1942] that the Japanese were making a ground invasion of Dutch Harbor [rumor] and asked for volunteers to go down to the barracks area to help man a pill box on the beach. I volunteered, but don't ask me why!" (interview in The Williwaw War).
Mile 0.7 - Hog Island, (1942-1944) Fort Mears Garrison 7
After the June 1942 bombing, troops from Fort Mears were dispersed to Unalaska Island and to nearby Hog Island (named by Russians who raised pigs there in the early 1800s). From Hog Island, Garrison 7 radio operators transmitted critical meteorological data, tide information, and constant weather updates to the military outposts along Unalaska's coastline. Although only a mile from Amaknak Island, the 250 men stationed on Hog Island were often stranded for weeks at a time when bad weather prevented supply boats from reaching them. Their diary entries attest to the serious food shortages experienced during the winter of 1942-1943: "canned sweet potatoes and sauerkraut for two days;" "only pancakes and sauerkraut for two weeks;" "down to two meals a day of canned sauerkraut;" and "rations ran out; all we have is flour and cauliflower, no salt" (Robert Garrett, Henry Oehrig, E.F. Paulus, and James Massey, interviews in The Williwaw War).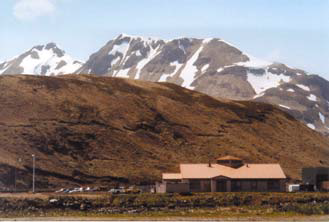 Mile 1.1 - Trench on Hill 200 (1941-1942)
Turn left at gas station onto Salmon Way.
The clearest view of the trench is from the Museum of the Aleutians parking lot below Hill 200. The trench line was dug in an offset pattern to prevent an enemy soldier from jumping into the trench and line with an automatic weapon. The uneven pattern would also have prevented an enemy pilot from making one long, continuous strafing run above the trench.
Return to Airport Beach Road and turn left.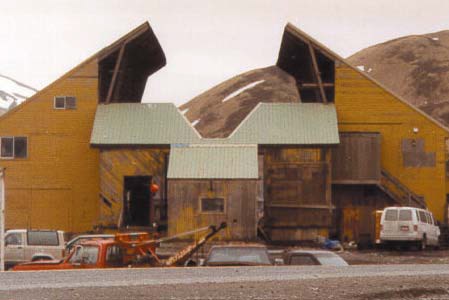 Mile 2.0 - Marine Railway and Shop Building (1941-1944)
(For the best view of this building, turn right at Gilman Road and park near the intersection of Gilman Road and Airport Beach Road)
The former Marine Railway and Shop Building is the only World War II structure at the former Iliuliuk Submarine Base that has retained both its historic appearance and original function. Just as navy vessels were repaired here 60 years ago, fishing boats today are winched into the Shop Building for repair on a set of tracks (the railway) that leads up the shore from Iliuliuk Harbor. The submarine dock was removed after the war, and the other structures associated with the submarine base have been either removed or extensively remodeled.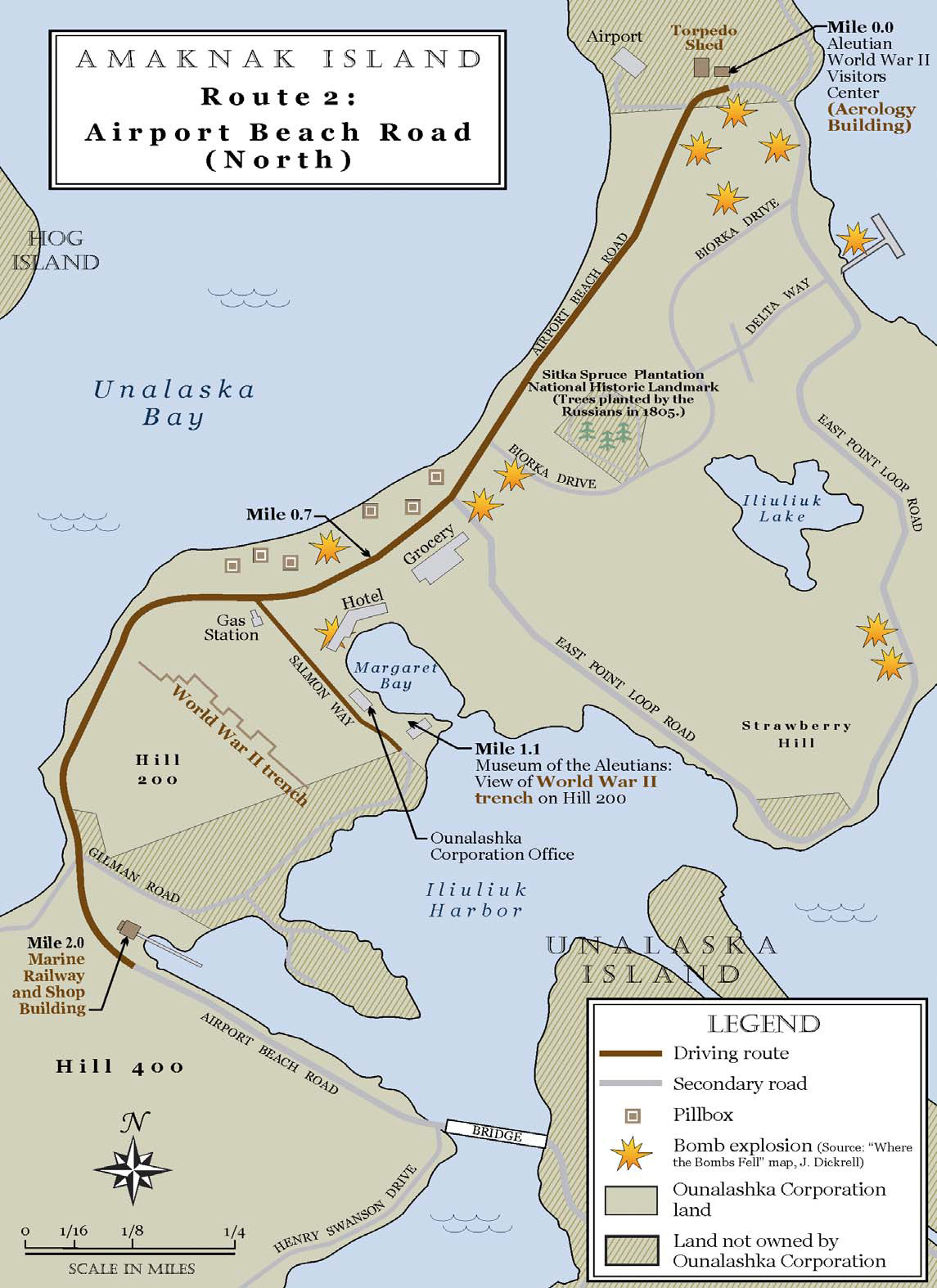 Last updated: December 13, 2020