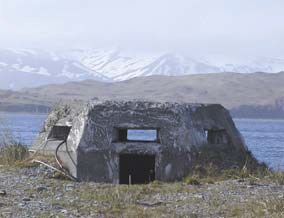 Mile 0.7 - Pill Boxes (1941-1942)
These hexagonal reinforced-concrete structures were named for their resemblance to a style of woman's hat with a flat crown and straight sides. Pill boxes provided emergency shelter in case of enemy bombing and were also used as machine gun bunkers. W.J. McKinistry, who was stationed at Dutch Harbor during World War II, remembered that "they told us [on June 4, 1942] that the Japanese were making a ground invasion of Dutch Harbor [rumor] and asked for volunteers to go down to the barracks area to help man a pill box on the beach. I volunteered, but don't ask me why!" (interview in The Williwaw War).
Mile 0.7 - Hog Island, (1942-1944) Fort Mears Garrison 7
After the June 1942 bombing, troops from Fort Mears were dispersed to Unalaska Island and to nearby Hog Island (named by Russians who raised pigs there in the early 1800s). From Hog Island, Garrison 7 radio operators transmitted critical meteorological data, tide information, and constant weather updates to the military outposts along Unalaska's coastline. Although only a mile from Amaknak Island, the 250 men stationed on Hog Island were often stranded for weeks at a time when bad weather prevented supply boats from reaching them. Their diary entries attest to the serious food shortages experienced during the winter of 1942-1943: "canned sweet potatoes and sauerkraut for two days;" "only pancakes and sauerkraut for two weeks;" "down to two meals a day of canned sauerkraut;" and "rations ran out; all we have is flour and cauliflower, no salt" (Robert Garrett, Henry Oehrig, E.F. Paulus, and James Massey, interviews in The Williwaw War).