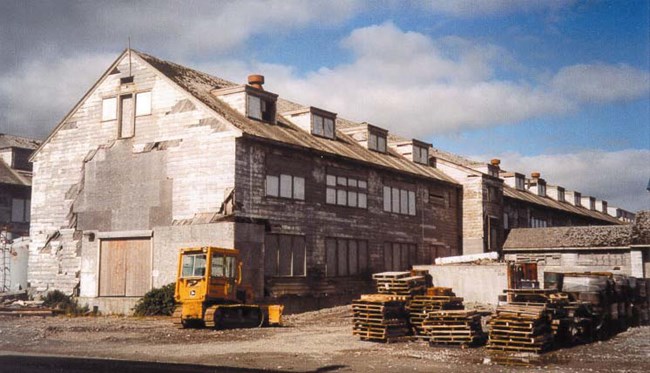 Mile 0.3 - Navy Barracks Buildings 1 and 2 Navy Mess Hall (1942)
Enclosed walkways once connected these large wood-frame buildings designed by Albert Khan. The self-contained, fuel-efficient complex provided welcome relief from the wind, rain, and snow as the men walked from their barracks to the mess hall. An air raid shelter was located beneath the barracks (J. Dickrell, Center of the Storm). The barracks, now used as warehouses, retain their original 1940s appearance.
Mile 0.3 - Station Brig (1942)
(For a better view of the building, turn right at the next street, Delta Way)
This small concrete and reinforced steel structure was part of the mess hall and barracks buildings complex. The Brig consisted of two standard cells, one solitary-confinement cell, and a small exercise area. On September 17, 1942, the crew of the U.S.S. Reid sank a Japanese submarine near Kiska Island. Five Japanese crew members survived and were taken prisoner. According to the official report, the prisoners were brought to the Brig at Dutch Harbor Naval Operating Base and questioned individually. "All prisoners freely answered questions ... and some information of military value was obtained" (War Diary, Sept. 1942). After questioning, several prisoners were taken to the nearby Aeronautical Expedition huts (no longer standing) where they were held until September 28, 1942, when the U.S.S. Chaumont transported the captured submarine crew to the continental U.S. for internment.
Mile 0.3 - Delta Western Dock, S.S. Northwestern (1940-1942)
Living quarters for the Siems-Drake construction crew was a refurbished 1889 freight and passenger ship, the S.S. Northwestern. The ship housed 280 workers and its steam turbo-generators furnished 2,300 volts of electricity to the naval base. On June 3, 1942, Japanese pilots bombed the ship, causing a fire that lasted for three days. Damaged beyond repair, the S.S. Northwestern was towed to the end of Captains Bay where it remains, half submerged. In 1994, the S.S. Northwestern Shipwreck Site was listed in the National Register of Historic Places.