Lesson Plan
Sagamore Hill Virtual Field Trip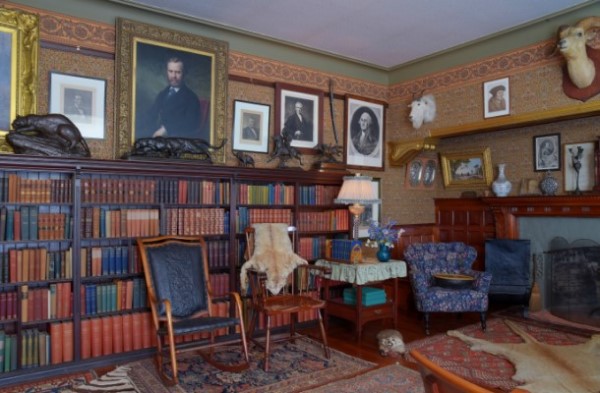 Grade Level:

Upper Elementary: Third Grade through Fifth Grade

Subject:

Social Studies

Lesson Duration:

90 Minutes

Common Core Standards:

6-8.RH.1, 6-8.RH.2, 6-8.RH.7
Essential Question
1.What do the objects in Theodore Roosevelt's home express about the life of a president and his family?

2.How do students' homes compare to those of a home from the late 19th/early 20th century?
Objective
1.Students will be able to make inferences about the Roosevelt family and their time period using primary sources such as a virtual tour and historic photographs.

2.Students will be able to draw their own conclusions about the achievements and values of President Roosevelt and his family.

3.Students will be able to relate their lives to historical figures through the universal themes of family and home life.
Background
Welcome to Sagamore Hill National Historic Site's virtual field trip! We are excited to have you along for the journey! This field trip is designed to allow students from all over the country to experience a National Historic Site from their own computers, while also sparking their curiosity about the National Park Service and, of course, Theodore Roosevelt!

This virtual field trip is expected to take approximately two to three forty-minute class periods, depending on your students and the amount of discussion included in the lesson. If you are looking for a shorter activity, any section of the field trip can be used on its own, allowing you to modify it to fit your time constraints. This field trip fits into any United States History course and would be taught during the Progressive Era unit as per New York State Standards.

Although this virtual field trip is geared towards students in grades 4 through 8, this can easily be modified by teachers for high school students as well. Questions and suggestions regarding this lesson plan are welcome! Send an email to sahi_education@nps.gov

Interested in inviting a Sagamore Hill park ranger to your classroom as virtual guest speaker? Send an email to sahi_education@nps.gov in advance of your lesson!
Preparation
Materials needed: Internet Access (can be modified if Internet access is not available), Worksheets for each section of the field trip
To start, the teacher will give some background to Theodore Roosevelt and Sagamore Hill. There is information included for the teacher in the background information section below, or the teacher can choose to use their own knowledge of Theodore Roosevelt.
The students will all receive a copy of the field trip guide, digitally or hard copy, and begin to explore the house.
If there is limited technology available, the teacher can make this a group field trip instead of an individual one by showing the websites and tours on the technology available and "walk through" the tour all together.
There is also an option to put the students into smaller groups and have them hand in one assignment for the entire group.
Procedure
The students will follow the prompts, touring the house as they go through the questions.
Once the students have completed their work, it can be submitted to the teacher or gone over together in class.
Contact Information