Lesson Plan
Riding the Rails and Traveling the Trails: Grades 4, 7, 12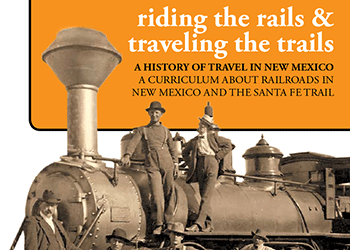 Grade Level:

Middle School: Sixth Grade through Eighth Grade

Subject:

Literacy and Language Arts,Social Studies

Lesson Duration:

60 Minutes

Common Core Standards:

4.L.4.a, 7.L.4.a, 11-12.RL.4

State Standards:

Review your state standards.

Additional Standards:

Review district standards.
Objective
Overview: A comprehensive education guide for 4th, 7th and 12th grade lessons about the Santa Fe Trail by Museum Education Consultant Beth Maloney. While these lessons are ideally used in conjunction with the Van of Enchantment Exhibit, the field trip is not a requirement. These lessons can be used separately and work well on their own.
Background
This unit plan explores the history of transportation in New Mexico through an examination of the Santa Fe Trail and the railroads. The Santa Fe Trail was an international trade route between Mexico and the United Stated from 1821 to 1848 and later a major route for the westward expansion of the United States. It made way for the arrival of the railroad in 1880. The railroad spurred the growth of New Mexico industry and encouraged the development of towns. The rail opened the Southwest to artists, travelers and speculators and became a final destination for many. New Mexico continues to utilize its rails with the completion of the New Mexico Rail Runner Express.

Unit plan: http://www.bethmaloney.com/wp-content/uploads/2014/12/riding-rails-curriculum.pdf 
Preparation
See lesson plans.
Materials
Lesson Hook/Preview
See lesson plans.
Procedure
See lesson plans.
Vocabulary
See lesson plans.
Contact Information
Last updated: September 18, 2017