Lesson Plan
Protecting a Volcano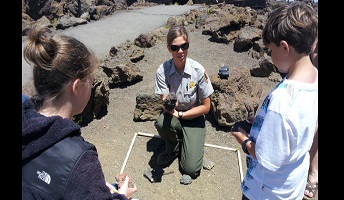 Grade Level:

Upper Elementary: Third Grade through Fifth Grade

Subject:

Science

Lesson Duration:

30 Minutes

Additional Standards:

Next Generation Science Standards:

5-ESS3-1
Objective
At the end of this lesson, the students will be able to determine how Haleakalā National Park protects natural, cultural, and geologic resources and how the students can help protect them too.
Background
Haleakalā National Park was created in 1916 to help protect and preserve the unique natural and cultural resources of our islands. The mission statement of the National Park service states: "The National Park Service preserves the natural and cultural resources and values of the national park system for the enjoyment, education, and inspiration of this and future generations. The National Park Service cooperates with partners to extend the benefits of natural and cultural resource conservation and outdoor recreation throughout this country and the world."
Preparation
None.
Lesson Hook/Preview
Students will write a short essay imagining what they would do as Park Superintendent.
Procedure
Step 1: Reflection of experiences on field trip
What was your favorite part of the field trip to Haleakalā National Park?
Why are the geologic resources of Haleakalā important to the people of Hawaiʻi?
What does the park do to protect them?
Step 2: If I were a Ranger…
Pretend that you are the newest Superintendent at Haleakalā National Park. How will you protect and preserve the geologic and historical features of the park? Write a short essay explaining what you would do and why.
Vocabulary
Preserve: To make something last a long time.
Protect: To keep safe from harm.
Contact Information
Last updated: March 11, 2018