Lesson Plan
Good Character, Good Stewards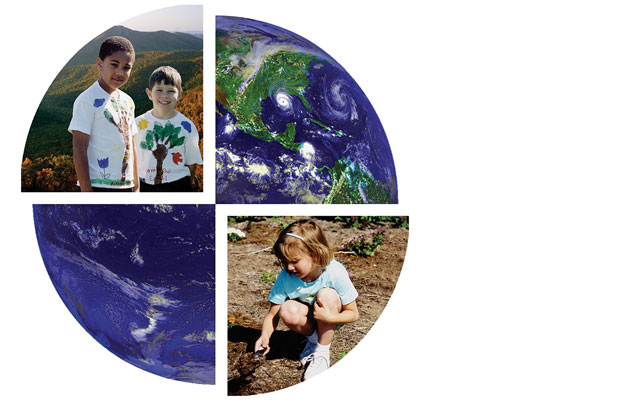 Grade Level:

Upper Elementary: Third Grade through Fifth Grade

Subject:

Literacy and Language Arts,Science

Lesson Duration:

90 Minutes

Common Core Standards:

K.RI.1, K.RI.4, 1.RI.1, 1.RI.4, 2.RI.1, 2.RI.4, 3.RI.1, 3.RI.4, 4.RI.1, 4.RI.4, 5.RI.1, 5.RI.4, 6.RI.1, 6.RI.4

State Standards:

Virginia Learning Standards
Grades K – 6, depending on the lesson plan

Additional Standards:

Next Generation Science Standards
Disciplinary Core Ideas: Life Sciences, and Earth and Space Sciences
College, Career, and Civic Life (C3) Framework for Social Studies Standards
Domains: Civics, Geography

Thinking Skills:

Remembering: Recalling or recognizing information ideas, and principles. Understanding: Understand the main idea of material heard, viewed, or read. Interpret or summarize the ideas in own words. Applying: Apply an abstract idea in a concrete situation to solve a problem or relate it to a prior experience.
Objective
What does "stewardship" mean? How can we, as children now and all adults, care for our environment around us?  How can we can we care for the wildlife, plants, people, and nature around us?
Background
This interdisciplinary curriculum supplement for grades K-6 integrates character education with science, math, language arts, and social science lessons for the classroom. The activities focus on the concept of stewardship and the ideals of the National Park Service to provide relevant educational experiences that involve students and promote an understanding of their responsibility to care for the world and its resources.   Some lessons require short excursion outside of the classroom, while others require additional reading materials to be acquired, such as The Lorax. Each lesson comes with specific details regarding the target grade levels and appropriate Virginia Standards of Learning.
Each lesson begins by identifying the Curriculum subject and Character traits addressed in the lesson. The suggested Grade level(s) and the relevant Virginia Standards of Learning are listed followed by the approximate Length/duration and the Materials needed to complete the entire lesson. An overview provides the basic theme and goal of the lesson followed by the Objectives for student learning. Background information on the subject matter is provided as well as the suggested Vocabulary.
The average American uses seven trees a year. It takes an entire tree to make a stack of newspapers just three feet high. Approximately 36 acres of trees are cut each week just to make the Sunday New York Times! A tree will reduce carbon dioxide in the air, produce oxygen, provide protection and homes for animals, and serve as a source of products used by people. Trees also provide shade and beauty for recreational enjoyment. By respecting our environment through reducing waste, reusing items, refusing what we don't need, and recycling, every person can make a difference!
Preparation
Curriculum Table of Contents
Introduction; pages 2-3
Additional Resources; pages 4-5
NPS Overview; page 6
Lessons
Branch Out (grades K-1); pages 7-11
Save Our Earth (grade 1): pages 12 – 17
Roly-Polyology 101 (grades 1-4): pages 18 – 23
Building Respect for the Past, Present and Future (grades 4-5); pages 18 -32
Interdependence (grade 2); pages 33 – 39
Watershed Words of Wisdom (grade 4 and 6); grades 40 – 47
One Solution for Pollution … Machines (grades 3 – 4); pages 48 – 53
Geology Rocks (grade 5); pages 54 – 64
A Circle of Service (grades 2 – 4); pages 65 – 71
Evaluation Form
Procedure
Read the general Introduction as well as the specific lesson plan you intend use for procedures.
Enrichment Activities
Enrichment and extension activities can be found in the curriculum.
Additional Resources
Can be found in the curriculum.
Contact Information
Last updated: July 28, 2015