Lesson Plan
Clara Barton's House: Home of the American Red Cross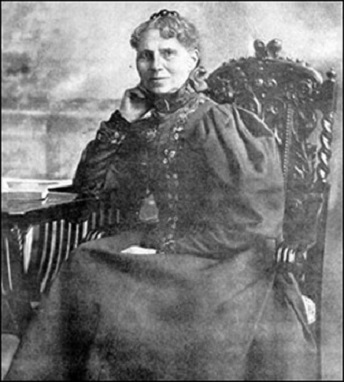 Grade Level:

Middle School: Sixth Grade through Eighth Grade

Subject:

Literacy and Language Arts,Social Studies

Lesson Duration:

90 Minutes

Common Core Standards:

6-8.RH.2, 6-8.RH.3, 6-8.RH.4, 6-8.RH.5, 6-8.RH.6, 6-8.RH.7, 6-8.RH.8, 6-8.RH.9, 6-8.RH.10, 9-10.RH.1, 9-10.RH.2, 9-10.RH.3, 9-10.RH.4, 9-10.RH.5, 9-10.RH.6, 9-10.RH.7, 9-10.RH.8, 9-10.RH.9, 9-10.RH.10

Additional Standards:

US History Era 4 Standard 4C: The student understands changing gender roles and the ideas and activities of women reformers.
Curriculum Standards for Social Studies from the National Council for the Social Studies

Thinking Skills:

Remembering: Recalling or recognizing information ideas, and principles. Understanding: Understand the main idea of material heard, viewed, or read. Interpret or summarize the ideas in own words. Applying: Apply an abstract idea in a concrete situation to solve a problem or relate it to a prior experience. Analyzing: Break down a concept or idea into parts and show the relationships among the parts. Creating: Bring together parts (elements, compounds) of knowledge to form a whole and build relationships for NEW situations. Evaluating: Make informed judgements about the value of ideas or materials. Use standards and criteria to support opinions and views.
Essential Question
How does Clara Barton's home reveal the expanding the role of women in the 1800s?
Objective
1. To describe how Clara Barton founded the American Red Cross and the role it played in organizing help for those in need;
2. To explain how Barton's Glen Echo home reflected her devotion to the American Red Cross;
3. To relate Barton's dedication to expanding the role of women in public service;
4. To investigate the work of present-day Red Cross chapters in their area as well as other charitable organizations in the local community.
Background
Time Period: 1860-1900 
Topics: The lesson could be used in teaching units on 19th- and early-20th-century American history, especially as related to social change during the period. It also could be used to teach about the history of women in the United States.
Preparation
Resting on a slight knoll in a quiet, shaded yard above the Potomac River Valley, a large, pale yellow, warehouse-like structure stands as a memorial to the complicated personality and persistent character of Clara Barton. Gazing at the house, one can imagine the click of typewriters as clerks respond to the voluminous correspondence which arrived daily. The murmur of voices can be detected as Barton discusses Red Cross business with her loyal field agents. The smell of the mid-afternoon meal drifts over the house, alerting the staff that even as they work to benefit others, their leader would supply their own needs.

Built in 1891, the structure was initially used as a storehouse for American Red Cross supplies. It was remodeled in 1897 to serve also as the headquarters of the American Red Cross and the home of its founder. Rising three stories high, its 30 rooms soon became crammed with thousands of items stockpiled to help victims of war and natural disasters, box upon box of official Red Cross papers, and Barton's personal belongings. Few homes in America tell more about their owners than the Clara Barton House just outside Washington, DC.
Lesson Hook/Preview
The Civil War was a turning point in the life of Clara Barton (1821-1912), a former school teacher and patent office clerk. At age 40, Barton began offering assistance to Civil War soldiers, first by garnering supplies and then by ministering to the needs of the wounded. As the shells burst over the battlefields, she cradled the sick in her arms and closed the eyes of the dying. She jostled from battlefield to battlefield by wagon and railroad car, slept in tents or not at all, and tried in a small way to provide comfort and ease. After the war, Barton continued to offer her services, both in the United States and abroad. These experiences prompted her to lobby for the establishment of the Red Cross in America. Barton's several years of dedication to this cause were rewarded when the American Red Cross was officially established in 1882. Barton became its first president, serving until 1904.
Procedure
Getting Started Prompt
Map: Orients the students and encourages them to think about how place affects culture and society
Readings: Primary and secondary source readings provide content and spark critical analysis.
Visual Evidence: Students critique and analyze visual evidence to tackle questions and support their own theories about the subject.
Optional post-lesson activities: If time allows, these will deepen your students' engagement with the topics and themes introduced in the lesson, and to help them develop essential skills.
Vocabulary
Patent
Additional Resources
Clara Barton National Historic Site
Clara Barton's home in Glen Echo, Maryland is now a unit of the National Park Service. The park's web pages detail its history, including photographs, descriptions, and materials for teachers.

Antietam National Battlefield
Clara Barton's efforts to care for the wounded began during the Civil War, and the website of this battlefield provides more information about her work.

National Park Service Civil War Website
Visit the official National Park Service Civil War website. Offering the current generation of Americans an opportunity to know, discuss, and commemorate this country's greatest national crisis, while at the same time exploring its enduring relevance in the present, the website includes a variety of helpful features and links that offer stories from various perspectives. Also included are links to Civil War Parks, NPS education programs, and much more.

National Park Service - Museum Management Program
American Visionaries: Clara Barton is an online exhibit exploring the extraordinary life, tenacious personality, and humanitarian contributions of Clara Barton through museum collections relating to her personal and professional life, as well as virtual tours of her Victorian-style Glen Echo, Maryland home and American Red Cross headquarters. The Museum Management Program also has three lesson plans focused on Clara Barton in their Teaching with Museum Collection series: Clara Barton, Founder of the American Red Cross, Pioneer and Innovator, Clara Barton Needs You!, and Preservation at Clara Barton National Historic Site.

American Red Cross History
The American Red Cross details its history in a virtual museum that includes photographs and descriptions of the organization since its founding.
Contact Information
Email us about this lesson plan
Last updated: March 4, 2020