Lesson Plan
"We're Sponging Off the Everglades"  Water: 4-6 Grade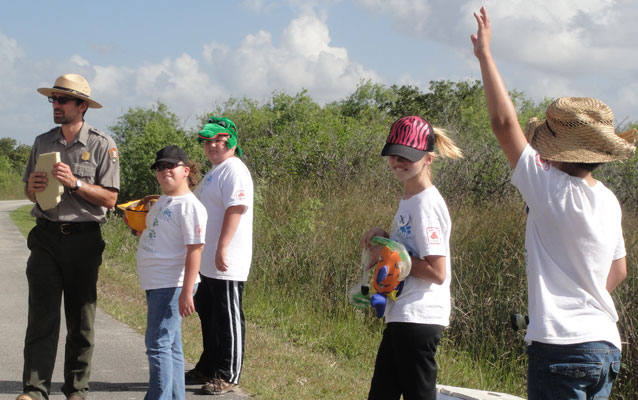 Grade Level:

Upper Elementary: Third Grade through Fifth Grade

Subject:

Science

Lesson Duration:

60 Minutes

State Standards:

Next Generation FLORIDA SUNSHINE STATE STANDARDS
SC.4.L.17
SC.5.L.15
SC.6.L.14
Essential Question
How does human action impact water quality?
Objective
Students will learn about the interconnections between our actions and the water we receive and use straight from the aquifer that lays beneath the Everglades. Prepare to get wet !
Background
Our "Water" unit of the activity guide contains various lesson plans, most of which take 45 minutes to an hour to complete (although some only 15-30 minutes), and targeted mainly at 4th-6th grade students. Most of these lessons focus on learning about the water cycle and the Everglades watershed. A class doesn't need to complete every lesson in the unit, though some lessons do refer to one another and are better done in sequence. Each lesson comes with its own set of objectives and resources.
 
Preparation
Incorporate the Everglades into your lesson planning. In partnership with teachers, we are proud to offer multidisciplinary, curriculum-based activities that bring relevant lessons from the field into the classroom. These materials can be used as pre-site lessons for any in-park field trip. Please click here to view a list of Everglades Curriculum Materials.
Procedure
To request hard copies or digital copies of the following activity guides, please email the Everglades Education Department or call (305) 242-7753.
Vocabulary
Water cycle, water conservation, watershed, sheet flow, aquifer, restoration
Additional Resources
Robinson, George B. & Robinson, Sandra C., Discover a Watershed: the Everglades, The Watercourse, ©1996, pp. 5-17.
Lodge, T.E., The Everglades Handbook Understanding the Ecosystem, CRC press LLC, ©2005
Contact Information
Last updated: March 8, 2019