Lesson Plan
"Algae: It Feeds, Kills and Dies"  Plant Activities: 4-6th Grade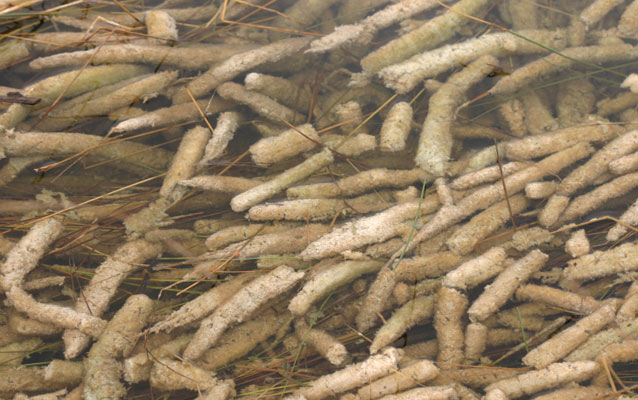 Grade Level:

Upper Elementary: Third Grade through Fifth Grade

Subject:

Science

Lesson Duration:

60 Minutes

State Standards:

Next Generation FLORIDA SUNSHINE STATE STANDARDS
SC.4.L.17
SC.5.L.15
SC.6.L.14
NS.K-4.3
NS.K-4.6
NS.5-8.3
NS.5-8.3

Thinking Skills:

Remembering: Recalling or recognizing information ideas, and principles. Understanding: Understand the main idea of material heard, viewed, or read. Interpret or summarize the ideas in own words. Applying: Apply an abstract idea in a concrete situation to solve a problem or relate it to a prior experience. Analyzing: Break down a concept or idea into parts and show the relationships among the parts.
Essential Question
What is algae and what is it's role in the Everglades aquatic food chain?
Objective
Students will be able to:
1) arrange an aquatic food chain in the Everglades
2) explain how nutrients, in the form of fertilizer, can affect this food chain
3) demonstrate how contaminants, like mercury, can end up in our bodies.
Background
Our "Plant" unit is broken into six lesson plans, each taking from 20 minutes to several class periods to complete, and targeted mainly at 4th-6th grade students. A class needn't complete every lesson in the unit, though some lessons do refer to one another and are better done in sequence. However, each lesson comes with its own set of objectives and resources.
Preparation
Incorporate the Everglades into your lesson planning. In partnership with teachers, we are proud to offer multidisciplinary, curriculum-based activities that bring relevant lessons from the field into the classroom. These materials can be used as pre-site lessons for any in-park field trip. Please click here to view a list of Everglades Curriculum Materials.
Procedure
To request hard copies or digital copies of the following activity guides, please email the Everglades Education Department or call (305) 242-7753.
Vocabulary
Food chain, fertilizer, pyramid of numbers, mercury, periphyton, nutrients, biomagnification, contaminant
Contact Information
Last updated: February 28, 2019