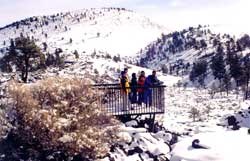 Not all of Arizona is warm dry desert. Weather can vary widely, especially with elevation. At Sunset Crater Volcano (6960'/2121m above sea level), you can expect cool/cold nights year round. Expect windy conditions most of the year.
Spring is usually mild, but heavy snowfall can occur. Summer days are warm with temperatures in the 80s; afternoon thunderstorms are likely July to September. In winter, snow and freezing temperatures alternate with mild weather.
Be prepared for abrupt weather changes in any season. Best advice - dress in layers.