Places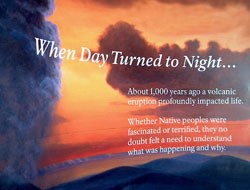 People must have been warned by tremors and earthquakes before red-hot rocks exploded from the ground and rained down on their pit houses and farmland. Perhaps some stayed to watch as their homes and farmland were buried under slow-moving lava flows. Most fled, taking their possessions with them.
Billowing ash, falling cinders, and forest fires blackened the land and the daytime sky. At night, the horizon glowed fiery red. A large fire fountain, accompanied by lightning and a tremendous roar, could be seen and heard for hundreds of miles. It must have been the loudest noise these people had ever experienced.
When their world again grew quiet, people faced a dramatically altered land. New mountains, including the 1,000-foot-high cinder cone now known as Sunset Crater, stood where open meadows and forests had been. Black cinders blanketed the region.
Life in the shadow of the volcano was changed profoundly and forever. Some people relocated nearby at Walnut Canyon or Wupatki.
900 years later, Sunset Crater is still the youngest volcano on the Colorado Plateau. The volcano's red rim and the dark lava flows seem to have cooled and hardened to a jagged surface only yesterday. As plants return, so do the animals that use them for food and shelter. And so do human visitors, intrigued by this opportunity to see nature's response to a volcanic eruption.


Last updated: February 24, 2015